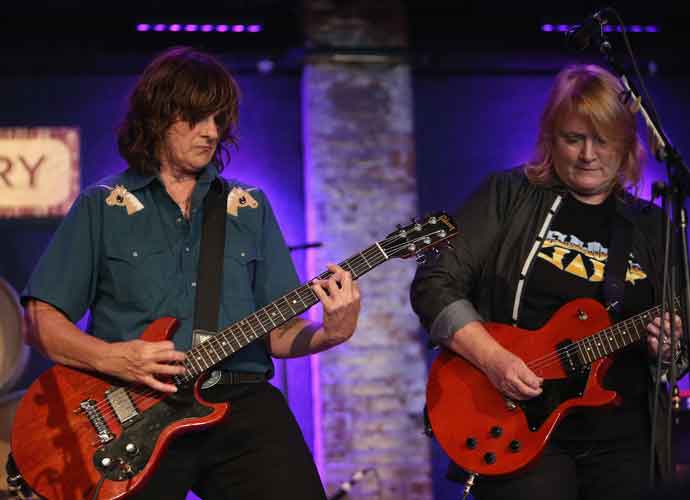 Folk rock duo Indigo Girls have rescheduled their 2020 tour dates to 2021.
The tour is set to kick off in Collingswood, New Jersey on April 15 and travel the East Coast before heading to Boulder, Colorado on July 19.
GET INDIGO GIRLS CONCERT TICKETS HERE!
Although the band hasn't been able to play live shows at concert venues, Amy Ray and Emily Saliers have been working on different ways to play their music live for their fans. In September, the women performed for a livestream together to raise money for their touring crew and staff who have lost their income due to the pandemic.
In October, the duo played a sold-out "Live From The Drive In" concert in Atlanta, and livestreamed it for fans who couldn't make it in person.
Get ticket information here!
APR 15, 2021
Collingswood, NJ, US
$65
Indigo Girls Tickets (Rescheduled from March 25, 2020 and October 2, 2020)
APR 17, 2021
Morristown, NJ, US
$89
Indigo Girls Tickets (Rescheduled from March 21, 2020 and September 22, 2020)
APR 19, 2021
Red Bank, NJ, US
$57
Indigo Girls Tickets (Rescheduled from March 17, 2020 and October 1, 2020)
APR 20, 2021
Stamford, CT, US
$65
Indigo Girls Tickets (Rescheduled from March 20, 2020 and September 23, 2020)
APR 22, 2021
Huntington, NY, US
$54
Indigo Girls Tickets (Rescheduled from March 22, 2020 and September 29, 2020)
APR 23, 2021
Medford, MA, US
$64
Indigo Girls Tickets (Rescheduled from March 28, 2020 and September 25, 2020)
APR 24, 2021
Mashantucket, CT, US
$87
Indigo Girls Tickets (Rescheduled from March 27, 2020 and September 26, 2020)
JUN 22, 2021
Vienna, Virginia, US
$69
Indigo Girls Tickets (Rescheduled from June 23, 2020 & September 17, 2020)
JUN 22, 2021
Vienna, VA, US
$198
Ani DiFranco with Indigo Girls Tickets (Rescheduled from June 23, 2020 and September 17, 2020)
JUN 25, 2021
Florence, MA, US
$84
Indigo Girls Tickets (Rescheduled from June 20, 2020)
JUN 26, 2021
Lafayette, NY, US
$74
Indigo Girls Tickets (Rescheduled from July 3, 2020)
JUL 19, 2021
Boulder, CO, US
$111
Indigo Girls Tickets (Rescheduled from July 25, 2020)