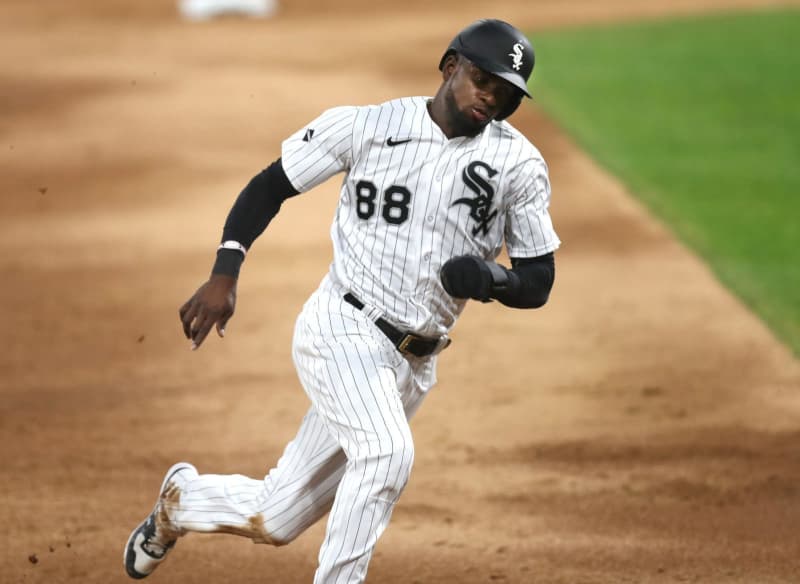 CHICAGO — Marco Paddy remembers having multiple conversations with Chicago White Sox Chairman Jerry Reinsdorf, executive vice president Kenny Williams and general manager Rick Hahn about Luis Robert.
"The very first time I saw him was in Chihuahua, Mexico, at a world tournament and immediately got excited just because of the athletic ability, the size, the ability to play center field," Paddy said Thursday during a conference call. "Even at an early stage in his career, as a 15-year-old … he showed you some ability that you normally don't see."
Those abilities were on display throughout Robert's rookie 2020 season with the Sox. Despite a September slump, he led all rookies with 31 RBIs in the 60-game, pandemic-shortened regular season. Robert, 23, won the AL Gold Glove for center fielders and finished second in American League Rookie of the Year voting.
Paddy is the special assistant to the general manager for international operations for the Sox. He looked back on early discussions surrounding Robert and looked ahead with updates on Sox prospects on Thursday.
Paddy recalled the first call to Williams and Hahn about Robert.
"I said, 'There's a guy down here, he's got a chance to be special,' " Paddy said. "During the course of the years, we saw him in various international competitions, so when the time came for us, it was a very fortunate time because we had the support from ownership and Jerry and we had the support from Kenny and Rick. This is something, coming in, we were very aggressive and I'm thankful for them for giving me the opportunity to recommend this guy to the organization."
The Sox signed the Cuban-born Robert in May 2017. He quickly became one of the top prospects in the game and played a major role in helping the Sox reach the playoffs for the first time since 2008.
Paddy, whom the Sox hired in November 2011, said he felt fortunate while watching a player like Robert have success.
"Very fortunate because it starts at the top with ownership and Jerry and then it goes to Kenny and Rick," Paddy said. "They have given me the support and resources and they have allowed me to shape the operation in the way I thought best, obviously using the guidelines and keeping in mind the needs of the organization. They have allowed me to work and they respect my work. They've created a culture here and developed a culture here where there's a tremendous amount of cooperation from every department.
"Somewhere along the line, whether it was Luis or (American League MVP) Jose (Abreu) or any other player we signed, it's a combination of cooperation from everyone in Chicago. Whether you're located in Chicago or Arizona, these guys contribute and make it easier. I feel fortunate for the cooperation that I've received and the respect and the resources to compete for any player at any level of the market. We all feel fortunate that these guys are playing for us, and it's something we can be proud of."
Infielders Elijah Tatis, Bryan Ramos and outfielder Benyamin Bailey were among the players Paddy discussed Thursday.
Tatis is the younger brother of San Diego Padres star shortstop Fernando Tatis Jr. Paddy said Elijah Tatis, 19, is "very polished defensively."
"The one thing about him is he repeats, and when you get a young player that repeats, repeats his swing with no problem and has the ability to handle the bat real well, obviously right away you get excited about it," Paddy said.
He said the combination of power and strong defense of the 18-year-old, Cuban-born Ramos is "going to be something special."
And Paddy said the 19-year-old Bailey, of Panama, reminds him of former major league outfielder Carlos Lee.
"He's a young kid that has natural ability to hit," he said.
Paddy said the Sox are making adjustments during the pandemic when it comes to international scouting.
"We stay in contact with everybody, we have a lot of resources over there where our scouts are in contact with the trainers and myself, the lines of communication are open," he said. "We're more information-based now simply because we have the time to sit back and review everything versus when we were normal, we were running everywhere and we had to make sure we didn't miss this game here or that game there.
"We've turned this thing into an advantage for us, and now we're looking more at the videos and trying to understand the progress of a player from point A to point B."
———
©2020 Chicago Tribune