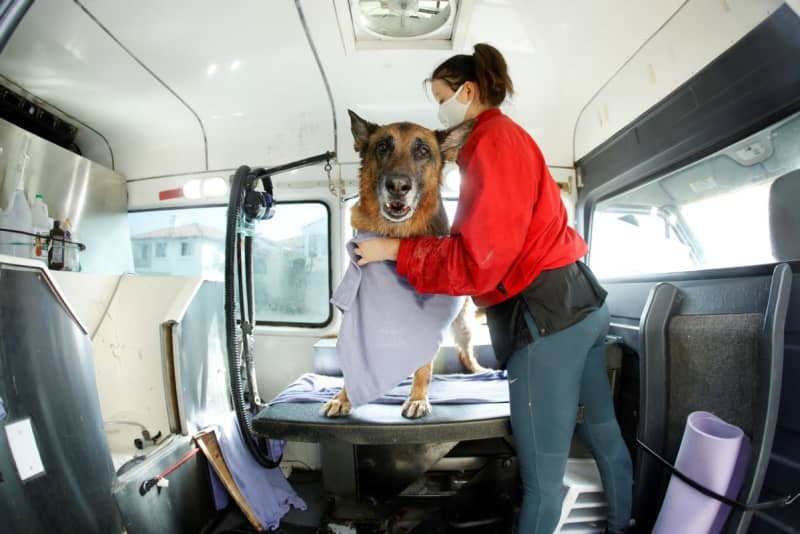 Animal shelters across the United States are experiencing a pet-adoption boom, especially for dogs, as the COVID-19 pandemic causes isolation at home and feelings of loneliness.
The demand also is hitting pet stores and dog breeders, with some reporting waiting lists into 2021.
The surge in pet adoption began in March when COVID-19 lockdowns started. According to a report from a Detroit affiliate of ABC News, Detroit Dog Rescue received 350 applications for foster dogs in the first two days of the city's shutdown.
Now Michigan Humane reports that its weekly adoption rate is up by around 16 percent compared to pre-pandemic, averaging about 160 to 175 adoptions a week.
The American Society for the Prevention of Cruelty to Animals (ASPCA), a nonprofit shelter, reported that during the first few weeks of shelter-in-place measures, it saw a nearly 70 percent increase in animals going to foster homes through its programs in New York City and Los Angeles, compared with the same period in 2019.
At Animal Care Centers of NYC, about 25 percent of the people who agreed to take in foster dogs temporarily at the start of the pandemic's first wave had adopted them permanently by late June. Usually, that foster-turned-adopter number is 10 percent, Katy Hansen, director of marketing and communications, told The Washington Post.
In late June, the ASPCA in Los Angeles reported adoptions were double their usual rate, with 10 or 13 a day, President Madeline Bernstein told the Post. A waiting list had formed for certain types of dogs, and for puppies in general, because so few were left in the shelter, she said.
"My inventory is low," Bernstein said. "All the shelters are in the same boat, but people still want to adopt."
When the virus initially struck in the spring, adoptions consisted of people helping to clear the shelters before they had to shut down.
"There's been a realization that this is going to go on for a while," she said. "People will not be getting on planes to travel. They're going to plan staycations or driving vacations that are more amenable to pets. So they'll adopt now. This is like a second group of people on a whole other timeline."
Breeders, too, reported unusual levels of business into midsummer. Hank Grosenbacher, a breeder of Pembroke Welsh corgis who owns the Heartland Sales auction in Cabool, Missouri — where commercially licensed breeders often buy and sell dogs as breeding stock — said that as of late June, some breeders were investing more heavily than usual in puppies they could raise into breeding-age dogs.
Other breeders were reporting pet stores buying full litters of puppies that hadn't been born yet, putting the money down in advance just to try to keep inventory in the pipeline.
Though the pet adoptions are good news, shelter directors are worried that as Americans return to work there could be an increase in dogs being abandoned.
As pet ownership keeps going up, the demand for pet-related products and services also has grown.
Walmart last week launched Walmart Pet Care to offer a "full range" of pet products and services to its estimated 90 million customers owning pets, including offering insurance, dog-walking and pet-sitting.
Walmart has teamed up with pet insurance provider Petplan to offer coverage for veterinary fees, with Rover for dog-walking and pet-sitting services. Rover says it has 300,000 providers across the country. Walmart also offers PetRx service to provide pet medicine both in store or online.
In 2019, $95.7 billion was spent on pets in the US, according to the American Pet Products Association (APPA). This year the association projects that will grow to $99 billion.
More than $68 billion — close to 70 percent — of pet spending will go to pet food and treats as well as veterinary care and products in 2020, according to the APPA.
Dogs are the No. 1 pet owned by Americans, with about 63.4 dogs per million households. Cats are second at 42.7, followed by fish, birds and reptiles.
© Copyright 2020 China Daily Information Company. All Rights Reserved.Provided by SyndiGate Media Inc.