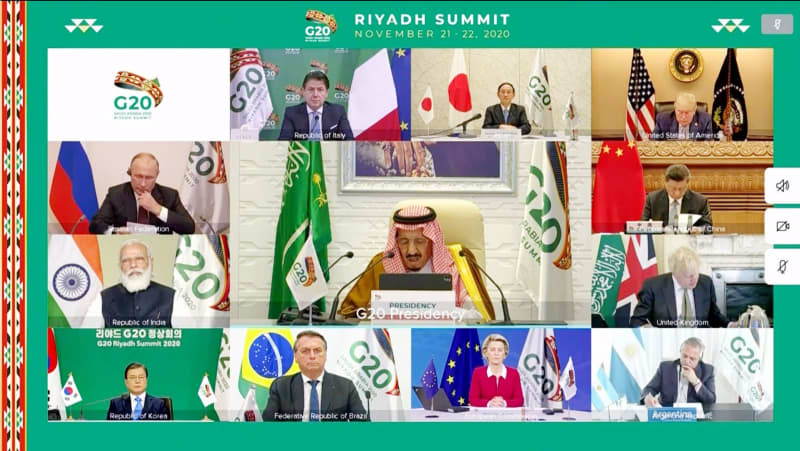 Leaders of the Group of 20 major economies began a teleconference on Saturday to discuss ways to deal with the coronavirus pandemic and restore growth amid a resurgence in infections in various parts of the world.
During the two-day talks through Sunday, Japanese Prime Minister Yoshihide Suga is expected to stress the importance of ensuring all countries having fair access to COVID-19 vaccines when they are ready and pledge that Japan will continue to play an active role in the international community through its key polices, according to government officials.
His government's major policies expected to be explained at the virtual meeting include digitalization, promoting multilateral free trade frameworks, and reducing ocean plastic waste and greenhouse gas emissions.
The G-20 leaders plan to issue a joint statement following the meeting, possibly with a pledge to do all they can to tackle the pandemic and prevent the global economy from spiraling into depression.
Even if issued, their statement, however, is expected to refrain from vowing to fight protectionism, sources involved in preparations for the summit said earlier this month.
The G-20 countries have done so at their summits since 2018 after opposition from the United States, which has implemented protectionist trade measures under President Donald Trump's "America First" policy.
To help developing countries allocate more funds for curbing the virus spread, the G-20 countries have agreed on their debt payment suspension until June next year, extended from December, and possible debt reduction.
The debt relief program, called the Debt Service Suspension Initiative, was launched in May by the G-20 and Paris Club traditional creditor nations, after the outbreak of the virus saw vulnerable countries saddled with higher financing costs.
At a press conference on Friday, U.N. Secretary General Antonio Guterres called the six-month extension of the debt payment suspension a "welcome step," but said more action needs to be taken to help ease the difficulties of poor nations.
The second online G-20 summit under the presidency of Saudi Arabia, following the first one in March, came as many countries including those in Europe have been seeing spikes in virus cases as winter approaches, increasing downside risks and uncertainty over the coming months.
More than 57 million cases of COVID-19 have been confirmed globally as of Saturday, with the death toll topping 1.37 million, according to a tally by Johns Hopkins University.
The pandemic has led to strict travel restrictions and hard lockdowns in many cities across the world, forcing most major economies to contract an annualized real 20 to 50 percent in the April-June period from the previous quarter.
The G-20 groups Argentina, Australia, Brazil, Britain, Canada, China, France, Germany, India, Indonesia, Italy, Japan, Mexico, Russia, Saudi Arabia, South Africa, South Korea, Turkey, the United States and the European Union.