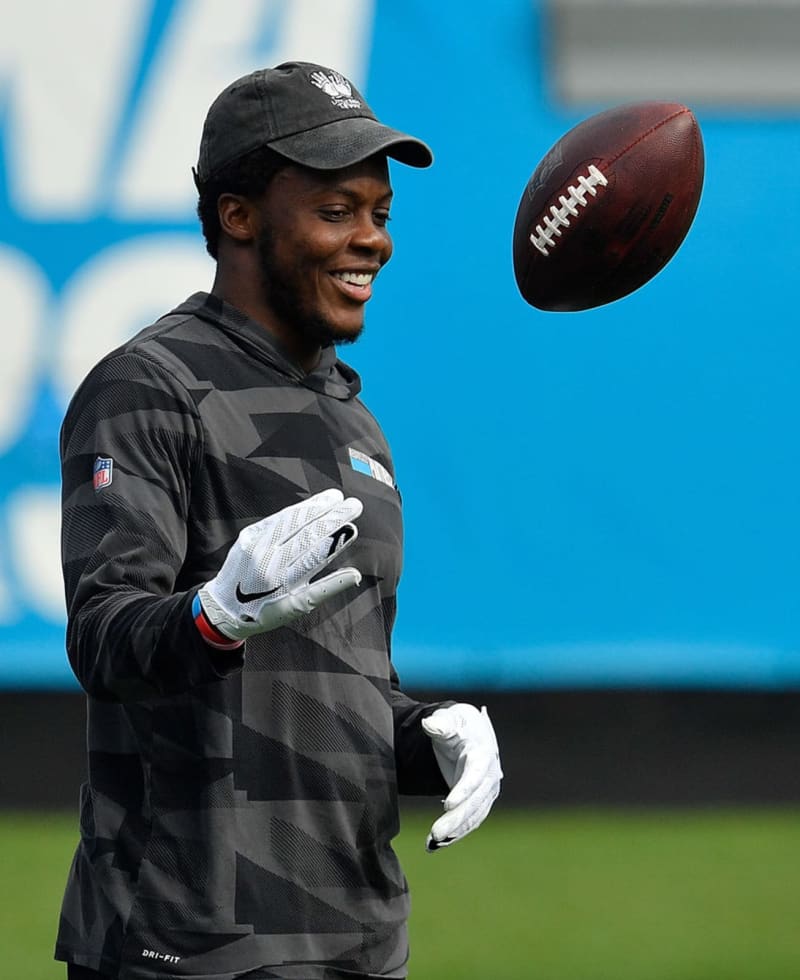 Teddy Bridgewater walked onto the field at Bank of America Stadium twice to warm up prior to the Sunday's game against the Detroit Lions.
The first time was with a trainer, testing his knee and getting himself set to go. The second was with all of the decision-makers watching. Offensive coordinator Joe Brady and quarterback coach Jake Peetz stood close by Bridgewater, while general manager Marty Hurney, head coach Matt Rhule and even owner David Tepper looked on.
Shortly after, Rhule made the decision to go with his gut and not let Bridgewater play in Sunday's game. The quarterback was close, about "80-85%." But it wasn't enough for Rhule. Not with his knee history and not with the knowledge of what is to come this week.
"He was cleared to go. He was allowed to go. He wanted to go. I just felt like as I watched him move, he moved at like 80-85% and I didn't feel like it would be, at that position, especially with his history with the left knee; I didn't feel like it was the right thing to do to ask him to go out there and go against his instincts," Rhule said.
That left knee injury took place in Minnesota in 2016, and that's exactly where the Panthers will be headed next Sunday. And with Bridgewater getting the all-clear from the medical staff to play vs. the Lions, he is set up to start against the team that drafted him in the first round back in 2014 with a chance to get fully healthy over a 14-day stretch as long as there are no setbacks.
Rhule said Monday that he expects Bridgewater to participate in Wednesday's practice.
"We'll just kind of take it from there. He was cleared to play yesterday, so I would assume he would be ready to go Wednesday, but I usually just try to take things day-by-day," Rhule said.
Having P.J. Walker start instead of Bridgewater was difficult decision, and came down to the wire.
"This is my eighth year of being a head coach, (sitting Bridgewater) was probably the hardest individual decision I've probably had to make in terms of game day," Rhule said.
Walker played fine in his first career NFL start in place of Bridgewater. He finished the game against the Lions 24-of-34 (70.6%) passing for 258 yards, one touchdown and two interceptions. The offense got the team's three wide receivers involved equally in a way they hadn't previously. DJ Moore and Robby Anderson each finished with seven receptions, while Curtis Samuel had eight.
He had some good moments, including leading a 95-yard touchdown drive in the first half and consecutive scoring drives in the third quarter, which has given the Panthers trouble this year.
But Walker also threw two bad interceptions in the end zone. The first, in the second quarter, involved Walker staring down his receivers before throwing a short pass intended for Moore that was picked off by Amani Oruwariye. The second was thrown in the fourth quarter with a miscommunication on the play resulting in Walker throwing to a sea of white jerseys, intercepted by cornerback Desmond Trufant.
"For me, it was just take what the defense was giving me; just try to move the ball up and down the field, be smart with the football as best I can," Walker said. "Those two interceptions are still going to bother me for the next week. But for me, it's don't move on but move on. Learn from it and move on from there."
Sunday was only Walker's first NFL start and he was only told he would be making the start about 90 minutes prior to kickoff. It's expected that he will need time to develop after spending two years on and off the Indianapolis Colts roster and a hot stretch in the XFL. He's a potential backup for the Panthers going forward with some good, some bad and some room for improvement.
A helpful reminder to not take too much from any first career start: Walker became the fourth Panthers QB to win his first career start. The other three: Matt Moore, Chris Weinke and Kyle Allen.
Rhule's decision to start Walker over second-year quarterback Will Grier is a situation to watch moving forward, but Monday the head coach said that he had not put much thought into Walker being the clear No. 2 going forward. The Panthers used the 100th overall pick in the 2019 draft to take Grier out of West Virginia, and he watched Carolina take down the Lions from the sideline with a baseball hat on.
Walker out-performed Grier in practice this week, but don't take that as an indictment on his entire career. Not yet, at least. Rhule said he only finalized the decision that Walker would get the nod if Bridgewater couldn't go Saturday.
"I think Will's got an outstanding, outstanding future," Rhule said. "But just felt like based off this week's practice that if Teddy couldn't go, that I was going to start P.J. and see how it went."
Both of the Panthers' selections from the second and third-round of last year's draft had free-agent backups start ahead of them Sunday — left tackle Greg Little watched Trent Scott start in place of the injured Russell Okung. Rhule said this week he wasn't playing anyone based on where they were drafted and he meant it. Grier finds himself as the clear No. 3 quarterback on the Panthers' roster.
As for Walker, there are more backup opportunities to come this year, while Bridgewater has a date set the the Vikings up next.
———
©2020 The Charlotte Observer (Charlotte, N.C.)