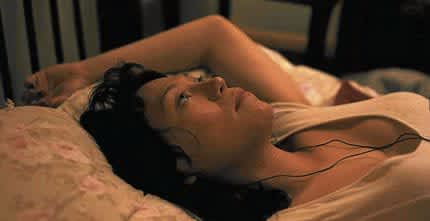 The much-buzzed about film "Lingua Franca," about an undocumented Filipina immigrant working as a caregiver in Brooklyn, New York, may not be autobiographical. But it pretty much captures the essence of its eloquent Fil-Am director, Isabel Sandoval, who also multitasks as its screenwriter, editor and lead actress.
No, Isabel is not an undocumented alien in America—she actually got her green card literally a month before Donald Trump was elected 45th president of the United States in 2016—but, like the beleaguered 29-year-old post-op protagonist she portrays in the thematically delectable drama, Isabel is a trans woman coming to terms with the gender she identifies with, and bravely doing her best to adjust to her "new normal."
"It may not be autobiographical, but it reflects how I feel [about issues]," clarified Isabel during our one-on-one chat on Zoom last Wednesday, arranged by TBA producer Vincent "Ting" Nebrida and his efficient team. "But, as French filmmaker Jean Cocteau once said, a director makes the same movie over and over again over the course of his or her career—which basically means that we tend to revisit the same themes, conflicts and unresolved issues in our own lives (laughs) and project them into the tales that we come up with.
"I tend to gravitate toward stories about women with secrets—and that's been a consistent theme across my three films."
In a nutshell, the story fueling "Lingua Franca" (84 percent rating on Rotten Tomatoes), her third film after 2009's "Señorita" and 2012's "Aparisyon" (helmed when she was known as Vincent Sandoval), tackles a mixed bag of hot-button issues—immigration, sexuality, racial and gender discrimination, identity and the all-encompassing reach of true love—as it zeroes in on a crucial period in the life of Olivia, who mulls the possibility of getting deported after the man she was supposed to marry out of convenience changes his mind.
Olivia's situation takes a more fascinating turn when she crosses paths with 29-year-old Alex (Eamon Farren), a Russian-Jewish slaughterhouse worker "stuck in limbo between youth and manhood" who is himself on the verge of finding his purpose in life. Complications further bubble to the surface after Alex finds out that the gentle, kind woman he's attracted to used to be a man!
"Lingua Franca" is one of the must-see attractions on TBA Studios' streaming website Cinema '76 @ Home (Cinema76fs.eventive.org/welcome), whose initial lineup includes Zach Lipovsky and Adam B. Stein's "Freaks," Cesar Hernando's "Gayuma," Lemuel Lorca's "Water Lemon," Jet Leyco's "Matangtubig" and Crisanto Aquino's 2019 Metro Manila Film Fest (MMFF) entry "Write About Love."
"Initially, 'Lingua Franca' was just a straightforward drama about a trans woman who becomes involved with a man who isn't aware that she's transgender," Isabel asserted. "But halfway through writing the script, Trump got elected—and I felt like I was suddenly plunged into an existential crisis. "I mean, I'm fortunate to have gotten a green card just before Trump was elected, but on the first month alone following his inauguration, he implemented that atrocious travel ban against people from seven Muslim countries, regardless whether their papers were legal or not. There was then an escalation of prejudice and discrimination against immigrants, plus transgender people, especially in the first six months of his term!
"For me, it was like going through the different stages of grief. I remember being in a state of shock the morning after the election. I wasn't sure how to process that information. After that, there was just a lot of frustration and anger, but the predominant feeling was anxiety.
"'Lingua Franca' is essentially a distillation of my mental and emotional state during those first six months. And that's why, even though it touches on otherwise weighty themes, like immigration and the plight of transgender women of color in the US, it also feels very delicate and impressionistic—because I was trying to put the audience in my shoes."
I tend to gravitate toward stories about women with secrets—and that's been a consistent theme across my three films
Isabel Sandoval
Actress/Director
Asked if winning best actress in Russia (at the Pacific Meridian International Film Festival last month) felt like a validation of her decision to come out as a trans woman, Isabel, who graduated summa cum laude at the University of San Carlos in Cebu before getting her MBA at New York University, said, "It's a tremendous honor that I'm very grateful for. But it also demonstrates how art can make a difference in generating empathy and understanding for perspectives and experiences that would otherwise still be considered invisible.
"I hope it's seen not just as a token gesture from Russian society, but that it also becomes a small but concrete step forward toward improving the situation of the LGBT community there."
Scene from "Lingua Franca"
"Lingua Franca" has also been opening more doors for Isabel. "As a result of the film being acquired by Ava DuVernay in North America, not to mention that it's been streaming on Netflix since August, I'm getting work in film and on TV now," Isabel announced. "I can't disclose anything just yet, but a major cable channel has picked up a TV series that I'm developing as a writer and director."
Our Q&A with Isabel:
I didn't know who Isabel Sandoval was until I realized that she and Vincent Sandoval, the filmmaker behind Jodi Sta. Maria's 2012 Cinemalaya entry "Aparisyon," were one and the same person. But how did you relate to Olivia's story?
My gender transition began two years after "Aparisyon,' when I started taking hormones. I began writing "Lingua Franca" while I was transitioning. It was a time for me to observe the changes that I was experiencing, not just in terms of how my body has started to feminize, but also the emotional and psychological changes that I was undergoing.
Sandoval
As far as attracting male attention was concerned, whether desired or not, I was also navigating that uncertainty and tension, about disclosing that I'm trans or whether it's even worth going that route.
How long did it take you to finish the shoot in Brooklyn?
Sixteen days, which is considered short, because independent films usually take about 25 days to finish. I'm efficient on set and shoot pretty fast. We shot "Aparisyon" in just eight days (laughs)—although it helped that we shot it in just one location, in a monastery.
Do you think the trans community will benefit from the Biden-Harris tandem?
I certainly hope so. I feel like the situation has reached its lowest during Trump's reign. Obama's administration represented significant progress that was unthinkable in the last 30 years, like its support for marriage equality. [For rallying behind] transgender rights, Obama made such a startlingly bold move forward.
But while it was two steps forward, there was also a step back during Trump's first 100 days. He attempted to dismantle what Obama was trying to do. Biden and Harris are going to have to play catch up with that. But, yes, [their triumph] definitely sends a strong signal that transgender people and minorities in general do not have to live under a cloud of threat anymore. Whoever is in the White House sets the tone, morally and culturally.
"Lingua Franca" has already breached barriers in that regard. Recently, I have also seen Flavio Alves' similarly compelling "The Garden Left Behind," about a Mexican trans woman who's also an undocumented alien in the US. More and more, the stage is opening up for wider representation for the LGBTQIA+ and trans communities. Your thoughts?
It's interesting because it took me a long time to realize I was trans, because you know how trans people are perceived and portrayed by media in the Philippines—there are almost always these flamboyant, boy-chasing exaggerated notions of "womanhood and femininity"—and that was not something that I identified with growing up. I was a geek—very bookish, reserved and soft-spoken. So, I just couldn't see myself that way. Even now, it feels bizarre to be labeled as a trans filmmaker, because I'm also many other things. INQ