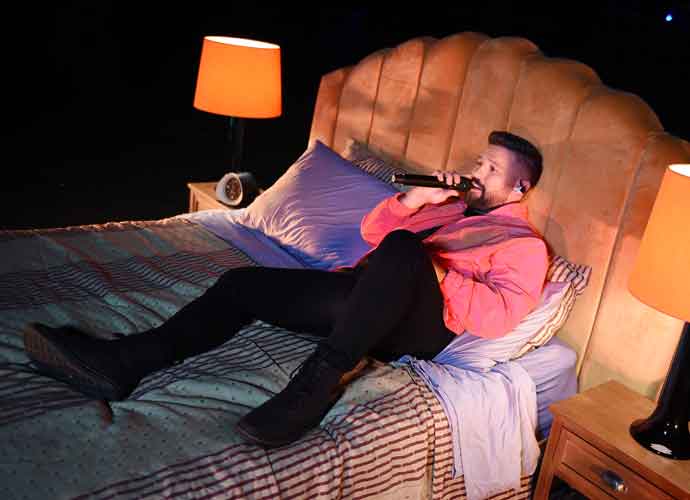 Dan + Shay's United States tour has been rescheduled to 2021 due to the ongoing pandemic.
The country pop stars are set to kick off the tour with appearances at festivals throughout the summer including Stagecoach Country Music Festival, Virginia Beach Patriotic Festival, Country Jam Colorado and Boots and Hearts Music Festival. Their headline tour begins on September 9 in Greenville, South Carolina and they'll be traveling through the U.S. through the fall until their final show in Boston on December 7.
GET DAN + SHAY CONCERT TICKETS HERE!
The duo left a touching note for fans after the release of their new single "Christmas Isn't Christmas."
"This song is very close to our hearts," they wrote. "it was inspired by our families, and all the loved ones in our lives that make the holiday season special. this year has been tough on us all, and not being able to connect with others (especially our fans) in person has really taken an emotional toll. but, out of darkness always comes light, and we feel music has a magical way of bringing us together, even when we are far apart."
Hopefully, Dan and Shay won't be apart from their fans too much longer. Check out the list of dates below to see when they are coming to your area.
Get ticket information here!
APR 23, 2021
Indio, CA, US
$320
Stagecoach Country Music Festival 3 Day Pass Tickets
Date TBA
Virginia Beach, VA, US
$184
Virginia Beach Patriotic Festival 3 Day Pass with Jon Pardi, Dan + Shay, Dierks Bentley & many more Tickets
JUN 5, 2021
Virginia Beach, VA, US
$75
Virginia Beach Patriotic Festival Saturday Only with Dan + Shay, Runaway June & many more Tickets
Date TBA
Mack, CO, US
$160
Country Jam Colorado 4 Day Pass with Toby Keith, Dan and Shay, Kane Brown and more Tickets
JUL 22, 2021
Monticello, IA, US
$81
Dan + Shay Tickets (Reschduled from July 23, 2020)
Oro-Medonte, ON, CA
CA$0
Boots and Hearts Music Festival 4 Day Pass with Jon Pardi, Dan + Shay, Eric Church & many more Tickets
SEP 9, 2021
Greenville, SC, US
$50
Dan + Shay Tickets (Rescheduled from March 14, 2020 and September 10, 2020)
SEP 10, 2021
Charlottesville, VA, US
$32
Dan + Shay Tickets (Rescheduled from March 13, 2020 and September 11, 2020)
SEP 11, 2021
Uncasville, CT, US
$101
Dan + Shay Tickets (Rescheduled from October 10, 2020)
SEP 14, 2021
Philadelphia, PA, US
$30
Dan + Shay Tickets (Rescheduled from March 12, 2020 and September 28, 2020)
SEP 16, 2021
New York, NY, US
$54
Dan + Shay Tickets (Rescheduled from September 25, 2020)
SEP 17, 2021
Pittsburgh, PA, US
$54
Dan + Shay Tickets (Rescheduled from September 26, 2020)
SEP 18, 2021
Greensboro, NC, US
$50
Dan + Shay Tickets (Rescheduled from March 28, 2020 and September 12, 2020)
SEP 23, 2021
Louisville, KY, US
$25
Dan + Shay Tickets (Rescheduled from March 27, 2020 and August 6, 2020)
SEP 24, 2021
Milwaukee, WI, US
$60
Dan + Shay Tickets (Rescheduled from April 11, 2020 and August 28, 2020)
SEP 25, 2021
Minneapolis, MN, US
$60
Dan + Shay Tickets (Rescheduled from April 10, 2020 and August 29, 2020)
OCT 1, 2021
Indianapolis, IN, US
$59
Dan + Shay Tickets (Rescheduled from April 16, 2020 and October 5, 2020)
OCT 2, 2021
Chicago, IL, US
$46
Dan + Shay Tickets (Rescheduled from April 17, 2020 and August 15, 2020)
OCT 3, 2021
Grand Rapids, MI, US
$55
Dan + Shay Tickets (Rescheduled from March 26, 2020 and August 7, 2020)
OCT 17, 2021
Glendale, AZ, US
$62
Dan + Shay Tickets (Rescheduled from October 21, 2020)
OCT 20, 2021
San Francisco, CA, US
$50
Dan + Shay Tickets (Rescheduled from October 23, 2020)
OCT 21, 2021
Sacramento, CA, US
$60
Dan + Shay Tickets (Rescheduled from October 24, 2020)
OCT 23, 2021
Salt Lake City, UT, US
$58
Dan + Shay Tickets (Rescheduled from October 16, 2020)
OCT 24, 2021
Denver, CO, US
$63
Dan + Shay Tickets (Rescheduled from October 15, 2020)
OCT 28, 2021
Portland, OR, US
$58
Dan + Shay Tickets (Rescheduled from October 30, 2020)
OCT 29, 2021
Tacoma, WA, US
$50
Dan + Shay Tickets (Rescheduled from October 31, 2020)
NOV 4, 2021
Orlando, FL, US
$63
Dan + Shay Tickets (Rescheduled from October 1, 2020)
NOV 5, 2021
Atlanta, GA, US
$53
Dan + Shay Tickets (Rescheduled from October 2, 2020)
NOV 12, 2021
Omaha, NE, US
$52
Dan + Shay Tickets (Rescheduled from April 18, 2020 and August 13, 2020)
NOV 13, 2021
Tulsa, OK, US
$42
Dan + Shay Tickets (Rescheduled from March 20, 2020 and July 30, 2020)
NOV 14, 2021
Kansas City, MO, US
$42
Dan + Shay Tickets (Rescheduled from April 9, 2020 and August 14, 2020)
NOV 20, 2021
New Orleans, LA, US
$55
Dan + Shay Tickets (Rescheduled from October 3, 2020)
NOV 21, 2021
Dallas, TX, US
$45
Dan + Shay Tickets (Postponed from March 21, 2020 and July 31, 2020)
DEC 3, 2021
Detroit, MI, US
$57
Dan + Shay Tickets (Rescheduled from September 19, 2020)
DEC 4, 2021
Hershey, PA, US
$58
Dan + Shay Tickets (Rescheduled from October 11, 2020)
DEC 5, 2021
Newark, NJ, US
$55
Dan + Shay Tickets (Rescheduled from October 8, 2020)
DEC 7, 2021
Boston, MA, US
$65
Dan + Shay Tickets (Rescheduled from October 9, 2020)