By ZHANG YUNBI | China Daily | Updated: 2020-11-26 07:02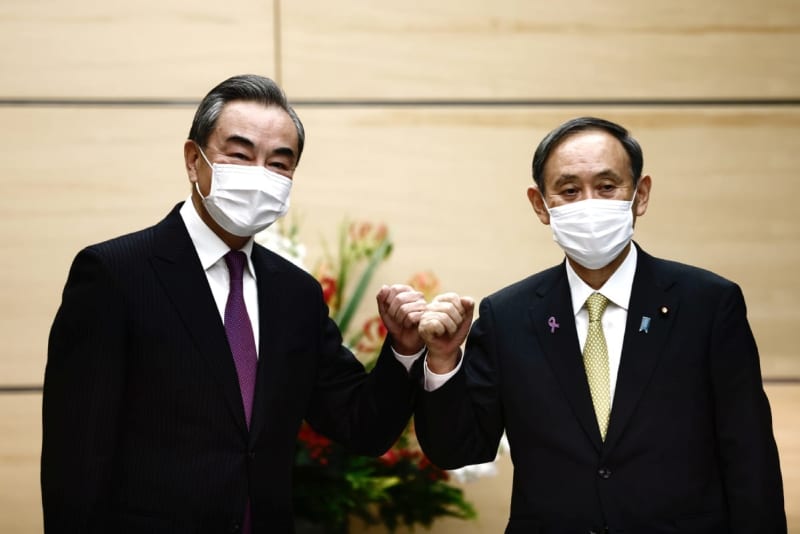 China and Japan should establish "genuine mutual trust", properly tackle sensitive issues and advance their cooperation, State Councilor and Foreign Minister Wang Yi told Japanese Prime Minister Yoshihide Suga on Wednesday.
Wang made the remarks while expressing China's hopes for Japan to further build their ties into those that meet the requirements of the new era, in a meeting with Suga in Tokyo.
Such goals are expected to bear fruit at an early date, benefit the two peoples and lay a solid foundation for the 50th anniversary of the normalization of bilateral diplomatic relations, which falls in 2022, Wang added.
In addition to building trust, the two countries should promote regional cooperation, speed up the construction of free trade zones and jointly create a promising future for Asia, Wang said.
Both sides should be dedicated to the reform of the global governance system, make globalization more open, inclusive and win-win, and shoulder the due international duties of the two countries, Wang added.
Wang was on the second day of his official visit to Japan when meeting with the new Japanese leader who assumed office in September.
Suga said the new Japanese Cabinet attaches great importance to Japan-China relations and is willing to enhance mutual trust with China and jointly promote the stable development of bilateral relations.
Japan expects to strengthen cooperation with China, ensure the success of the Tokyo Olympic Games next year and the Beijing Winter Olympic Games in 2022, and jointly celebrate the 50th anniversary of the normalization of their diplomatic relations, Suga said.
At the start of their meeting, Wang relayed President Xi Jinping's message to Suga.
Wang noted that after the new Japanese Cabinet took shape, Xi and Suga had a phone conversation and reached consensus on progressively improving and developing China-Japan relations, they achieved a smooth transition of bilateral ties and made clear the direction of the relations' growth in the next stage.
Suga expressed his appreciation for Xi's important message and said developing stable Japan-China relations is very important not only to Japan and China, but also to the region and to the international community, and this is the common responsibility of the two countries.
Wang told Suga that with years of effort, the relations have eventually returned to the right track, and both sides should cherish this hard-won situation.
When speaking to reporters, Wang responded to a question about the Diaoyu Islands issue by saying that China is highly concerned about the islands' latest situation.
He said the Chinese side had no choice but to respond to the recent frequent intrusions by unidentified Japanese fishing boats into the islands' waters.
China's position on this issue is clear, Wang said, and the country will continue to firmly safeguard its sovereignty.
Wang said the two sides should seriously honor the four-point principled consensus they reached in 2014 and avoid moves that may complicate the situation in sensitive waters. They should communicate in a timely manner in the event of such a problem and handle it properly.
China and Japan should make joint efforts to truly build the East China Sea into a sea of peace, friendship and cooperation, which is in line with the fundamental and long-term interests of the Chinese and Japanese peoples, Wang said.
Also on Wednesday, Wang met with Japan's Chief Cabinet Secretary Katsunobu Kato as well as friendly figures including former Japanese prime minister Yasuo Fukuda.
© Copyright 2020 China Daily Information Company. All Rights Reserved.Provided by SyndiGate Media Inc.