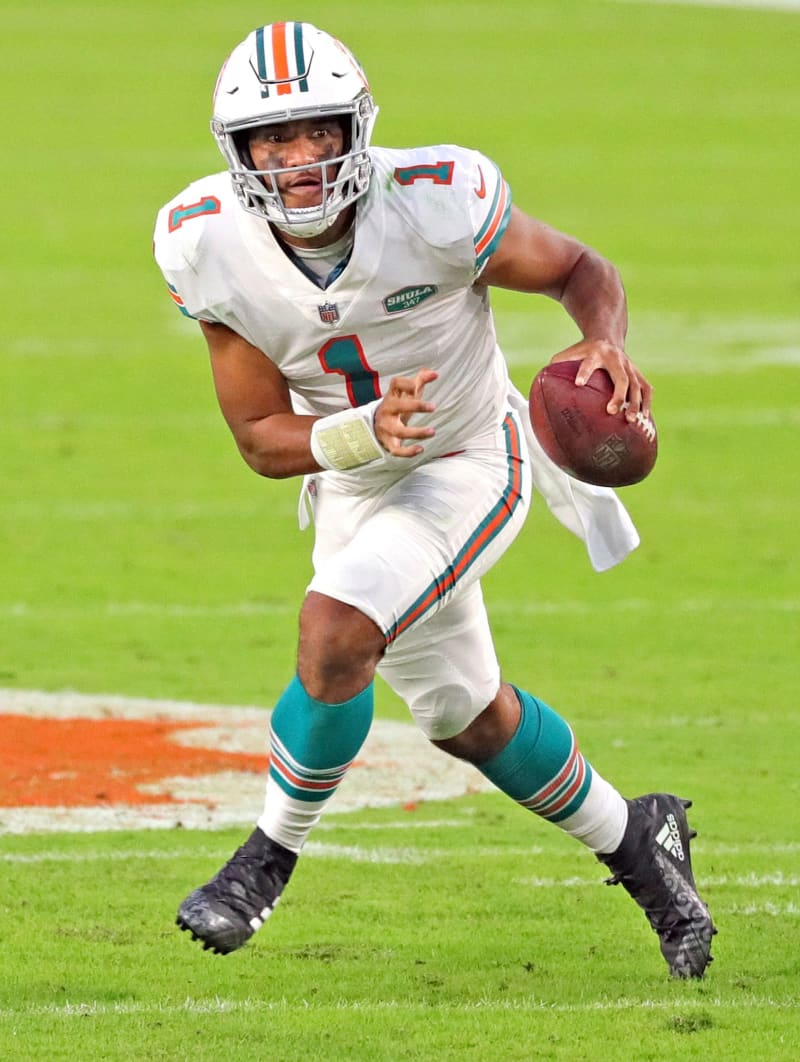 Here's what we've learned about Tua Tagovailoa after four starts:
— He's a strong and mature personality who enjoys the spotlight.
— He calls his parents often (like parents which their kids did).
— It's "TUNG-o-vai-LOA." And, yes, he cares.
— He's up-and-down like a rookie quarterback.
Twenty starts. That's what the unwritten rule for NFL folks to define what you have at quarterback. Every sport has such inexact thresholds. In baseball, 1,000 at-bats supposedly decide who a hitter is. In hockey, 300 starts make a defenseman a finished product.
Tua's four starts are starting to fill in the blanks of a can and can't checklist. Can: He's accurate. He's agile. He has a wonderfully quick release. He's mature. He's has a leader's personality.
Can't: He can't throw open players yet. He can't solve all defense and so holds the ball too long – he held it an average 2.84 seconds last Sunday according to Next Gen stats compared to Ryan Fitzpatrick's 2.3 seconds.
Those are correctable can'ts. One that isn't came on the first play of the fourth quarter, the one he lost two yards on, the one a NFL scout said to watch again for what it meant.
Tua tried to outrun two Denver defensive lineman, Bradley Chubb and Deshawn Williams, to the edge. He instead was run out of bounds for a 2-yard loss. He was too slow. That's because, well, he isn't fast.
"You can't teach him speed," the NFL scout said. "It doesn't mean he won't be a good quarterback. It just means his legs aren't going to help like they do a lot of the smaller quarterbacks."
Arizona's Kyler Murray ran 40 yards in 4.3 seconds.
Seattle's Russell Wilson ran it in 4.55 seconds before the draft.
Tua ran a 40 his freshman year at Alabama in 4.76 seconds. Maybe he got faster with strength. It's more likely he's slower due two minor ankle surgeries and a major hip surgery.
Having the dimension of running is part of many quarterback's games these days. But it's not Tua's game. He hasn't run for more than 2 yards in his three other starts. He didn't even have a rush attempt in Denver.
This isn't to make this into a wall of worry. It's just to add to the catalogue on who Tua is. The question becomes if the other parts of Tua's games are strong enough.
There's also the wise words of his Alabama college coach, Nick Saban. Way back when he was Dolphins coach I asked him the difference between college and NFL quarterbacks.
"You don't have to be a great athlete as a pro quarterback," he said. "That's down the list. You have to be a great decision-maker, a great leader, have great accuracy, great skills. That combination is hard to find.
"But in college you can be a great athlete, run a 4.7 and outrun most players. In the pros, running a 4.7 doesn't do much good. Guys run 4.5 and 4.6. They'll catch you and, over time, hurt you. So athleticism, that's not as important (in the NFL)."
Tua can be a great quarterback when you look at Saban's checklist. Great decision-maker. Great leader. Great accuracy.
He'll learn to throw the ball quicker than Sunday – that aforementioned stat by NextGen Stats of holding the ball 2.84 seconds wasn't the only indicator. On all four sacks he held the ball more than three seconds.
Denver coach Vic Fagio is 18-7 against rookie quarterbacks as a coach/defensive coordinator. He's good at messing with young minds. Tua's still in the learning process.
It's fun to learn and win as, say, Dan Marino did in winning nine of his first 10 starts. It's even fun to learn and lose if you're a Los Angeles Chargers fan and rookie Justin Herbert has 22 touchdowns against six interceptions.
For any rookie, the question isn't just about the learning curve. It's what learnable. Getting rid of the ball more quickly, that's teachable. Speed isn't. Maybe it's not important. Check back after more 16 starts.
———
©2020 Sun Sentinel (Fort Lauderdale, Fla.)