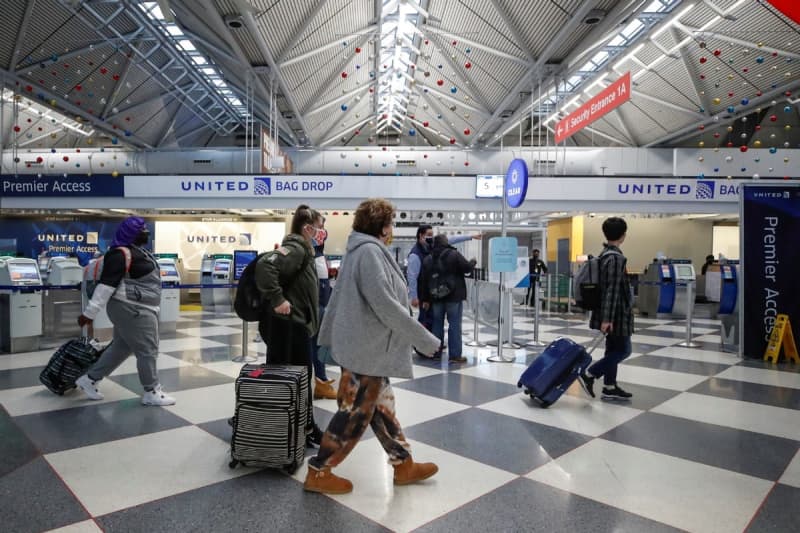 As Americans resist calls to limit their travel for the Thanksgiving holiday on Thursday, state and local officials nationwide are imposing new coronavirus restrictions.
In California, Los Angeles County, the nation's largest, officials will prohibit in-person dining for at least three weeks, and a judge on Monday denied a request to temporarily restore indoor service at restaurants and gyms in San Diego County.
New cases Monday put the county over an average of 4,500 per day. The county of 10 million residents has had a disproportionately large share of the state's cases and deaths. Although it accounts for a quarter of the state's 40 million residents, it has about a third of the cases and more than a third of the deaths.
On Tuesday, Nevada Governor Steve Sisolak, who recently contracted the coronavirus, tightened restrictions on casinos, restaurants and private gatherings. The Democratic governor has avoided stricter mandates throughout the fall because of the potential damage to Nevada's tourism-based economy.
He said the number of increasing coronavirus cases led to an "inescapable conclusion": "We are on a rapid trajectory that threatens to overwhelm our healthcare system, our front-line health workers and your access to care. So, it's time to act."
Nebraska's Republican Governor Pete Ricketts warned that he could impose tighter social distancing restrictions before Thanksgiving if hospitalizations continue to rise.
Around 83,000 people in the US are hospitalized with COVID-19, according to the Covid Tracking Project. Infections have led to a shortage of hospital beds and healthcare workers, and they threaten non-COVID-19-related surgeries and other care.
Colorado Governor Jared Polis, a Democrat, on Monday issued an executive order authorizing the state health department to order hospitals and emergency departments to transfer nonvirus patients and to cease admitting new ones to deal with the influx of coronavirus cases.
In Washington state, elective procedures such as joint and heart valve replacements and some cancer surgeries could be postponed to make room for coronavirus patients, said Washington State Hospital Association CEO Cassie Sauer.
In North Dakota — which ranks first in the country in new coronavirus cases per capita and where Republican Governor Douglas Burgum only recently began requiring masks in public — health officials are giving free rapid coronavirus testing for teachers, staff and school administrators. The pilot project is designed to slow the virus' spread by identifying and quickly isolating people who may be asymptomatic.
New York Governor Andrew Cuomo said he is reopening an emergency COVID-19 field hospital on the borough of Staten Island, the first such facility in the state to relaunch since the state partly tamed the pandemic over the summer. Staten Island has averaged 209 new cases per day over the past seven days — up 86 percent from two weeks ago. New York state has averaged nearly 5,500 new cases per day over the past seven days.
As many as 6.4 million doses of a coronavirus vaccine may be shipped on the first day after the after the Food and Drug Administration authorizes it, Health and Human Services Secretary Alex Azar said Tuesday.
The Centers for Disease Control and Prevention (CDC) reportedly may reduce the recommended quarantine period for those exposed to the coronavirus from 14 days to somewhere between seven and 10.
The Wall Street Journal reported on Tuesday that agency officials are putting the final touches on the recommendation, which would require a negative test for the exposed person to exit quarantine.
Henry Walke, the CDC's incident manager for COVID-19 response, told the Journal that studies have shown effective quarantines can be done in less time than the currently recommended two weeks. Although there's a chance some infections could be missed, he said there's a valuable trade-off.
"Hopefully people would be better able to adhere to quarantine if it was, for example, seven to 10 days," he said.
On Tuesday, the Dow Jones Industrial Average on Tuesday broke the 30,000 level for the first time, pushed by less uncertainty on the presidential election, the expected appointment by President-elect Joe Biden of former Federal Reserve chair Janet Yellen as treasury secretary and optimism of a COVID-19 vaccine, analysts said.
© Copyright 2020 China Daily Information Company. All Rights Reserved.Provided by SyndiGate Media Inc.