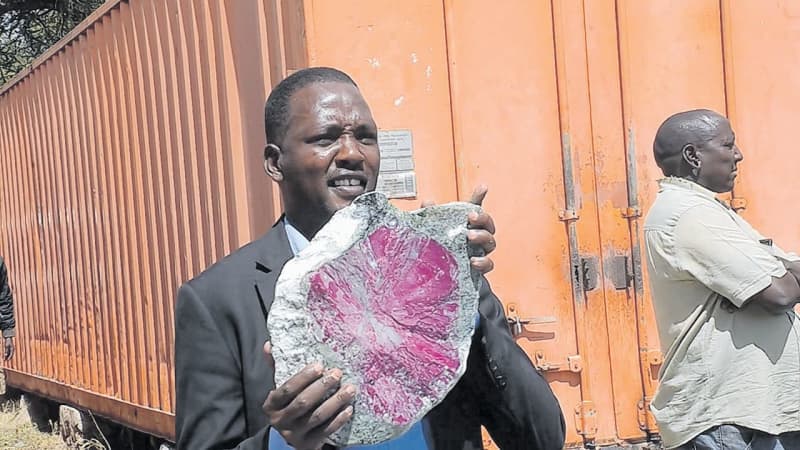 Arusha. Gabriel Sendeu Laizer, the man at the centre of a record ruby find, sold veterinary drugs for years.
He later became a mineral broker – and then a miner, having seen scores of miners striking fortunes in the gemstones-rich Longido District.
"I went underground myself before we hauled those huge ruby stones last week," the 41-year old local investor told The Citizen yesterday. The five tonne stones, mined from his eight hectare block at Mundarara village in Longido District, were valued at Sh1.7 billion.
This made Mr Laizer, another shilling billionaire overnight after Saniniu Laizer who hauled tanzanite gemstones worth Sh.14 billion last June.
"I know him (Saniniu Laizer). He is a distant relative," he said, noting this was his largest haul since he ventured into mining in 2016.
Until yesterday, he was still keeping his pink to blood-red coloured gemstone awaiting buyers from within and outside the country.
One kilogramme of ruby fetches about $260 (Sh600,3008) in the international markets. Like other gemstones, the value is determined by colour, cut and clarity. He said he was well connected to the gemstone market and that he expected buyers from within and outside the country to purchase them.
He intends to spend part of his newly found wealth to construct a veterinary drugs factory in his livestock-rich Longido District.
The soft-spoken Laizer born in Longido now joins a 'club' of rich gemstone miners largely based in Arusha.
Like many of his colleagues such as Mr Saniniu Laizer, the father of five kids, rose from humble beginnings, hardly making it beyond primary education. A mineral department official in charge of the northern zone, Mr Aidan Mhando, said the last haul of five-tonne fortune was excavated last Friday.
He said the government would earn Sh104 million as royalty, Sh126 million in tax revenues, Sh17 million inspection fee and Sh5 million as service levy.
He said Longido has greater potential for ruby and other gemstones. He urged other block owners to commence excavation According to him, there were a total of 17 mining blocks in the vast district inhabited mainly by nomadic pastoralists.
Longido District Commissioner Frank Mwaisume attributed the increasing revenues from the mineral sector to establishment of 28 minerals buying centres.
This has largely led to a sharp decline of smuggling of the minerals, especially the gemstones from the northern regions. The government revenue collections from the mineral sector has now gone up to Sh470 billion a year from Sh100 billion a few years ago.
____
Zephania [email protected] [email protected]