MANILA, Philippines — Energy Development Corp. and First Philippine Holdings Corp. Chairman and Chief Executive Officer Federico Lopez was awarded Management Man of the Year 2020 recently by Management Association of the Philippines.
In his acceptance speech, Lopez took note that the award came exactly 20 years since his father, Oscar Lopez, received the same honor from MAP.
"No one has influenced me and what FPH is today more than him: his values, discipline, love for nature, zest for learning, his passion for social justice and his zeal for health and wellness. He's a man of few words and rarely ever displays his approval (only his disapproval, and on that we'd get an earful) but he led us powerfully through his simplicity and his example. I'm doubly honored today because he and my Mom are here remotely to share this moment with me," Lopez said of his dad.
He said that at first, he felt unworthy of the award because he never finished his Master in Business Administration degree from Harvard University. But leaving school to revive a dying company was all worth it.
"After I prematurely left campus in 1988 and joined my father in the task of rebuilding a near-bankrupt FPH, I thought I'd return to complete my studies after 3 to 4 years in the business world," he recalled.
"I never did. This was likely because the situations I encountered at work convinced me that immersion in the world of real-life business was better for my development than interrupting it with another year of school. I never resolved whether I'd done the right thing and spent the last 33 years without the three letters 'MBA' embossed on my CV and wondering whether I'd just squandered an opportunity not available to many. After today, thanks to MAP, the three letters 'MMY' more than makes up for that and resolves this unfinished goal in my mind once and for all."
In his speech, he enumerated some of his and his companies' achievements and challenges in the past 33 years:
Birth of the Philippine natural gas industry with Malampaya, its impending sunset, and of course the eventual birth of a new one involving LNG (Liquefied natural gas).
The privatization and deregulation of the country's power industry following the passage of Electric Power Industry Reform Act (EPIRA).
The acquisition and transformation of world geothermal leader Energy Development Corporation.
"The near-death experience of the Lopez group in 1999-2009 when, because of massive debts and regulatory problems, our stock price plummeted to P0.08 per share in 2002 from a high of P15.55 in 1993."
The turnaround and success of their North Luzon Expressway toll road project in 2005.
Their group's resuscitation following the sale of Manila North Tollways Corporation in August 2008 and the sale of Meralco in 2009.
RELATED: Coal departure pays off for Lopez energy unit
Building up FPH's Recurring net income at a Compounded Annual Growth Rate of 29% over the past 10-year period.
Rising like a "phoenix" after ABS-CBN shutdown.
Their group's continued success and responsiveness to challenges made him learn the following valuable lessons that made him truly worthy to be called "Management Man of the Year":
Discover new worlds
From pursuing other passions outside business, such as scuba diving and spear fishing, Lopez learned that "persistently immersing myself in new worlds was the magic that broadened my perspectives exponentially."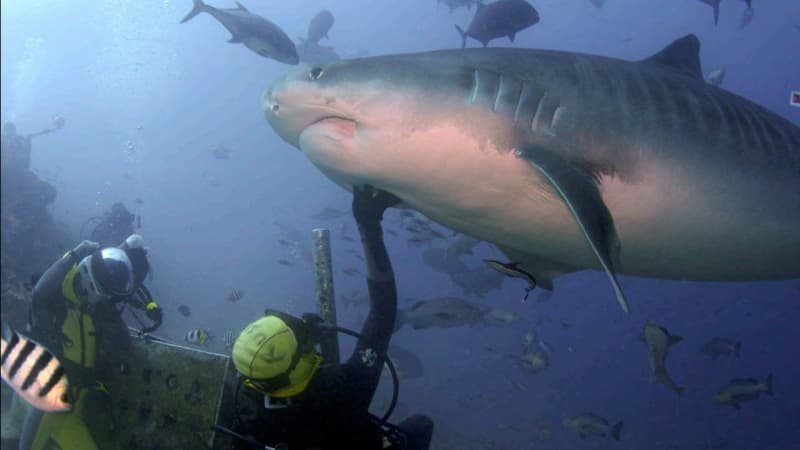 Federico Lopez touching the belly of a tiger shark in Fiji.
"But these life-changing insights only unfold themselves for you if you approach those new worlds with respect, empathy, a learning mind, and most of all with an openness to being vulnerable."
Experience the world through others' eyes
Through his mountain biking explorations, Lopez learned that "Life may be hard, but not necessarily unhappy."
"I met a Dumagat woman, I'd even call her a true lady, who selflessly chose to raise the five children of a neighbor whose wife died during childbirth. This so he could continue to work in the fields. Helping without counting the cost came naturally to many people I came across. Kindness, gentleness, gratefulness and reciprocity for simple things was everywhere."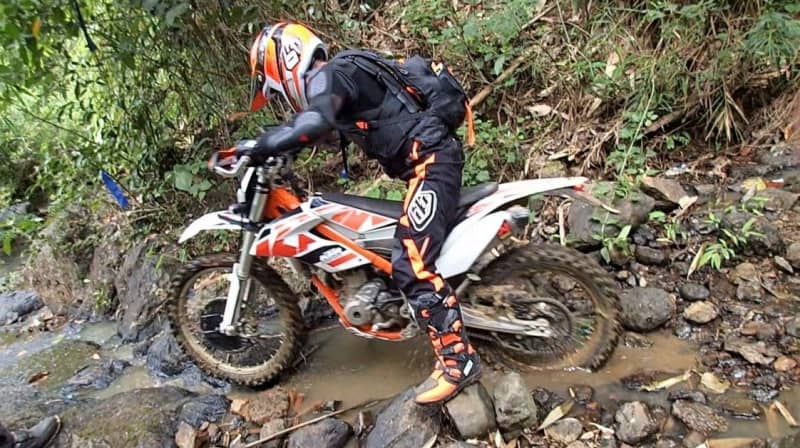 Lopez biking off-grid.
His encounter with the indigenous woman changed his traditional economist's view of poverty and gave him a glimpse of the richness of life beyond Gross Domestic Product (GDP).
"More importantly, it speaks of our folly of being trapped in a single narrative. To instead see beyond just black or white, beyond just good or evil, rich or poor, happy or unhappy, and to experience the world through the eyes of others that help us see the millions of shades and colors truly out there."
Empower your subordinates to think like owners
"The real lesson for me over the last thirty-three years has been that we could not have accomplished the things we did without professionalizing the management of our organizations and empowering these professionals to think like owners."
Lopez believed that it is not enough to compensate your employees well.
"More importantly, it's about creating, nurturing, and often being very protective of a work environment that enables everyone to become their best selves and contribute toward a collective purpose larger than any of us individually. We sometimes describe our work at the top as that of gardeners tending, nurturing, and protecting everyone's growth."
Be regenerative
This COVID-19 pandemic, he said, made him learn that one's success is not guaranteed by inheriting family businesses and other entitlements. He took note of how the pandemic has suddenly changed everything – from disrupting people's sleep and eating patterns to pulling businesses into bankruptcy.
"I've felt for some years now that the unprecedented times we're living in have been begging for a new narrative and a new paradigm for how we live, work, do business, and even how we measure success and progress," he said.
As such, he did not feel to anymore use the world "sustainable" as a means to survive — in life or in business because the world needs healing and renewal "badly."
"So we took on the challenge of using the word 'regenerative' instead, with all the responsibility it carries. We are not a full-on regenerative company today; no one is yet. But we chose it deliberately to signal to our people that they have a license to adopt this new mindset as our inherent way of doing business and that it's OK for them to 'bring their values to work' every day."
As opposed to being "sustainable," to be "regenerative" means healing does not always have to come from upper management.
"It has to permeate the organization and how it does business day to day."
Be collaborative
As a result of being "regenerative," a company or its managers also has to be "collaborative" because no person or organization can heal alone, Lopez claimed.
"I keep stressing to our people that if we find ourselves ahead and alone at the finish line, we will have failed in our mission. This is a massive undertaking and we know we cannot possibly succeed if we go the journey alone."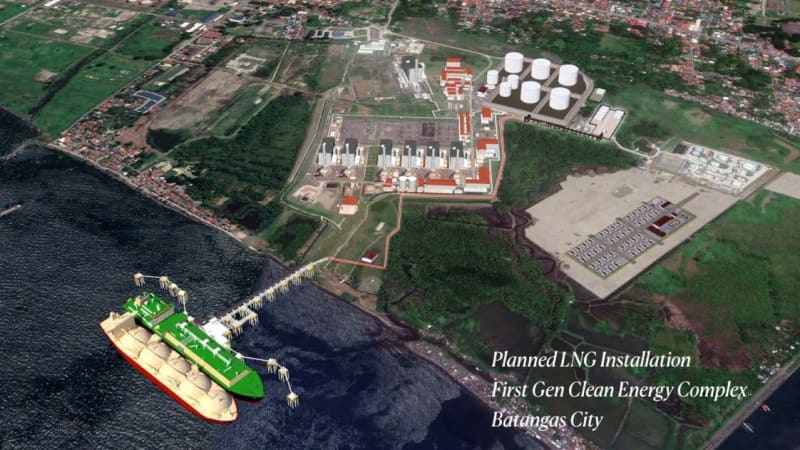 Planned LNG installation at the First Gen Clean Energy Complex in Batangas City as seen in Lopez's presentation as he accepted the MAP award.
A business, therefore, should not only think to rise alone but also carry with it everyone within its scope.
"Businesses need to align themselves, their resources, and their capabilities toward a mission that seeks to elevate everything they touch – their customers, employees, suppliers, contractors, the environment, communities, and, of course, their investors."
Through these values — Lopez sees a new generation of business leaders emerging from the ashes of the pandemic — learning, reflecting with deep honesty, absorbing the lessons wholeheartedly, then moving on and proceeding, "always wiser."