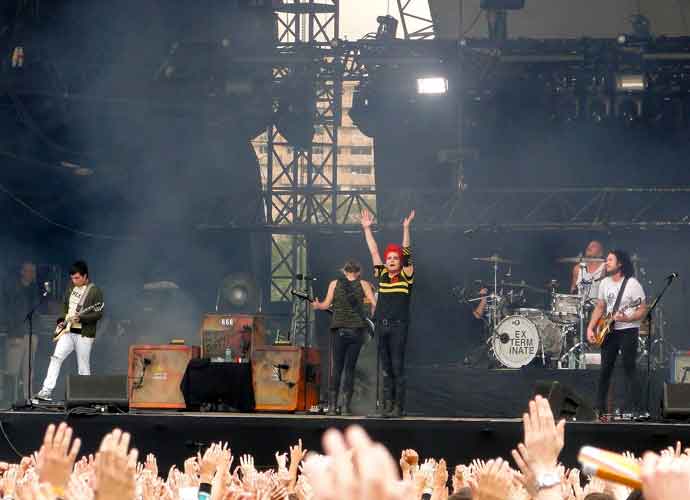 My Chemical Romance has rescheduled their 2020 tour dates to 2021 amidst the COVID-19 pandemic.
The rock band has scheduled the tour to begin in the U.K. on June 15 in St. Austell. They're scheduled to play two shows in Europe: Italy on July 4 and Germany on July 6, before moving on to the North American leg of the tour starting in Philadelphia on September 8. The final stop on the tour is set for Inglewood, California, where they are set to play four shows October 11-17.
GET MY CHEMICAL ROMANCE TICKETS HERE!
They are still set to appear at several rescheduled festivals including Riot Fest in Chicago, Music Midtown Festival in Atlanta and Aftershock Festival in Sacramento, California.
Tickets purchased for the original dates will be honored for the rescheduled shows. Refunds are available at your point of purchase.
"It is a long time away, and there is so much for all of us to do to make the world a better place in the interim," the band wrote when they announced the rescheduled the tour in June. "We cannot wait to play for you. Take care of each other and yourselves. We will see you soon."
Check out the list of dates below to see when the "Welcome to the Black Parade" band is coming to your area.
Get ticket information here!
JUN 15, 2021
Saint Austell, CON, GB
£113
My Chemical Romance – Eden Sessions
JUN 17, 2021
Milton Keynes, BKM, GB
£80
My Chemical Romance Milton Keynes
JUN 19, 2021
Milton Keynes, BKM, GB
£100
My Chemical Romance Milton Keynes
JUN 20, 2021
Milton Keynes, BKM, GB
£92
My Chemical Romance Milton Keynes
JUN 22, 2021
Dublin, IE
€99
My Chemical Romance Dublin
JUL 4, 2021
Bologna, EMI, IT
€55
My Chemical Romance Bologna
JUL 6, 2021
Bonn, NW, DE
€95
My Chemical Romance Bonn
SEP 8, 2021
Philadelphia, PA, US
$233
My Chemical Romance Tickets (Rescheduled from September 18, 2020)
SEP 9, 2021
Toronto, ON, CA
CA$251
My Chemical Romance Tickets (Rescheduled from September 14, 2020)
SEP 11, 2021
Brooklyn, NY, US
$227
My Chemical Romance Tickets (Rescheduled from September 17, 2020)
SEP 13, 2021
Boston, MA, US
$184
My Chemical Romance Tickets (Rescheduled from September 15, 2020)
SEP 15, 2021
Detroit, MI, US
$195
My Chemical Romance Tickets (Rescheduled from September 9, 2020)
SEP 16, 2021
Saint Paul, MN, US
$155
My Chemical Romance Tickets (Rescheduled from September 11, 2020)
Date TBA
Chicago, IL, US
$160
Riot Fest Chicago 3 Day Pass Tickets with My Chemical Romance and many more
September 18-19
Atlanta, GA, US
$235
Music Midtown Festival 2 Day Pass with My Chemical Romance & many more Tickets
SEP 21, 2021
Newark, NJ, US
$159
My Chemical Romance Tickets (Rescheduled from September 22, 2020)
SEP 22, 2021
Newark, NJ, US
$165
My Chemical Romance Tickets (Rescheduled from September 23, 2020)
SEP 25, 2021
Sunrise, FL, US
$176
My Chemical Romance Tickets (Rescheduled from September 26, 2020)
SEP 28, 2021
Houston, TX, US
$144
My Chemical Romance Tickets (Rescheduled from September 29, 2020)
SEP 29, 2021
Dallas, TX, US
$212
My Chemical Romance Tickets (Rescheduled from September 30, 2020)
OCT 1, 2021
Denver, CO, US
$120
My Chemical Romance Tickets (Rescheduled from October 2, 2020)
OCT 3, 2021
Tacoma, WA, US
$145
My Chemical Romance Tickets (Rescheduled from October 4, 2020)
OCT 6, 2021
Oakland, CA, US
$110
My Chemical Romance Tickets (Rescheduled from October 6, 2020)
OCT 7, 2021
Sacramento, CA, US
$497
Aftershock Festival 4 Day Pass with Metallica, My Chemical Romance & many more
OCT 8, 2021
Las Vegas, NV, US
$99
My Chemical Romance Tickets (Rescheduled from October 11, 2020)
OCT 11, 2021
Inglewood, CA, US
$121
My Chemical Romance Tickets (Rescheduled from October 8, 2020)
OCT 12, 2021
Inglewood, CA, US
$127
My Chemical Romance Tickets (Rescheduled from October 13, 2020)
OCT 14, 2021
Inglewood, CA, US
$99
My Chemical Romance Tickets (Rescheduled from October 14, 2020)
OCT 17, 2021
Inglewood, CA, US
$98
My Chemical Romance Tickets (Rescheduled from October 16, 2020)