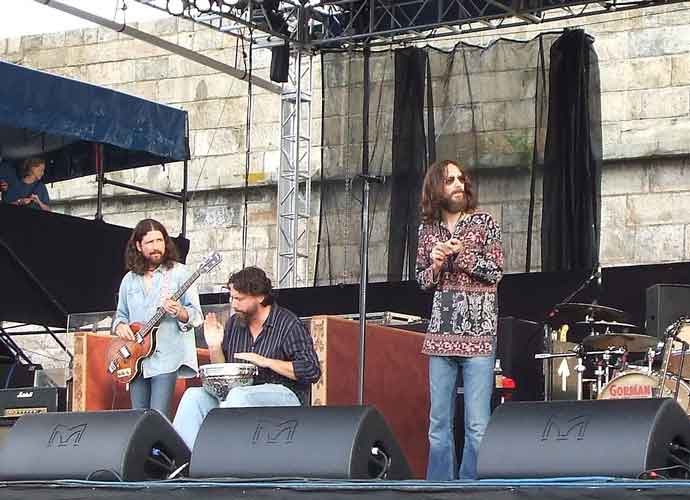 The Black Crowes have rescheduled their Shake Your Money Maker 2020 tour to 2021 as the COVID-19 pandemic keeps concert venues closed around the world.
The tour is set to kick off in New Orleans on April 29, and travel the United States throughout the spring and summer with one stop in Canada on July 27 in Toronto. The tour then moves to Europe in October, with shows in the United Kingdom, Germany, Netherlands, Spain and Portugal through November.
GET BLACK CROWES CONCERT TICKETS HERE!
In recent news, the Black Crows released their 2005 cover of Clarence Carter's holiday song "Back Door Santa" on Sunday.
Check out the list of dates below to see when the "She Talks To Angels" band is coming to your area.
Get ticket information here!
APR 29, 2021
New Orleans, LA, US
$320
New Orleans Jazz and Heritage Festival Weekend 2 – 4 Day Pass
APR 29, 2021
New Orleans, LA, US
$90
New Orleans Jazz and Heritage Festival Weekend 2 – Thursday Only
JUN 25, 2021
Tampa, FL, US
$41
Black Crowes Tickets (Rescheduled from July 1, 2020)
JUN 26, 2021
West Palm Beach, FL, US
$50
Black Crowes Tickets (Rescheduled from June 30, 2020)
JUN 29, 2021
Pelham, AL, US
$35
Black Crowes Tickets (Rescheduled from June 26, 2020)
JUN 30, 2021
Charlotte, NC, US
$45
Black Crowes Tickets (Rescheduled from July 3, 2020)
JUL 2, 2021
Raleigh, NC, US
$40
Black Crowes Tickets (Rescheduled from July 4, 2020)
JUL 3, 2021
Atlanta, GA, US
$46
Black Crowes Tickets (Rescheduled from June 27, 2020)
JUL 6, 2021
Nashville, TN, US
$54
Black Crowes Tickets (Rescheduled from July 7, 2020)
JUL 7, 2021
Nashville, TN, US
$54
Black Crowes Tickets (Rescheduled from July 8, 2020)
JUL 9, 2021
Bristow, VA, US
$39
Black Crowes Tickets (Rescheduled from July 11, 2020)
JUL 10, 2021
Bethel, NY, US
$33
Black Crowes Tickets (Rescheduled from July 15, 2020)
JUL 13, 2021
Camden, NJ, US
$27
Black Crowes Tickets (Rescheduled from July 14, 2020)
JUL 14, 2021
Burgettstown, PA, US
$51
Black Crowes Tickets (Rescheduled from August 1, 2020)
JUL 16, 2021
Holmdel, NJ, US
$50
Black Crowes Tickets (Rescheduled from July 17, 2020)
JUL 17, 2021
Wantagh, NY, US
$54
Black Crowes Tickets (Rescheduled from July 18, 2020)
JUL 20, 2021
Mansfield, MA, US
$40
Black Crowes Tickets (Rescheduled from July 22, 2020)
JUL 22, 2021
Saratoga Springs, NY, US
$42
Black Crowes Tickets (Rescheduled from July 25, 2020)
JUL 24, 2021
Gilford, NH, US
$39
Black Crowes Tickets (Rescheduled from July 21, 2020)
JUL 25, 2021
Hartford, CT, US
$36
Black Crowes Tickets (Rescheduled from July 24, 2020)
JUL 27, 2021
Toronto, ON, CA
CA$50
Black Crowes Tickets (Rescheduled from July 28, 2020)
JUL 29, 2021
Clarkston, MI, US
$30
Black Crowes Tickets (Rescheduled from July 29, 2020)
JUL 31, 2021
Maryland Heights, MO, US
$33
Black Crowes Tickets (Rescheduled from August 23, 2020)
AUG 1, 2021
Noblesville, IN, US
$31
Black Crowes Tickets (Rescheduled from August 16, 2020)
AUG 3, 2021
Cincinnati, OH, US
$37
Black Crowes Tickets (Rescheduled from August 20, 2020)
AUG 4, 2021
Cuyahoga Falls, OH, US
$45
Black Crowes Tickets (Rescheduled from August 18, 2020)
AUG 7, 2021
Tinley Park, IL, US
$32
Black Crowes Tickets (Rescheduled from August 15, 2020)
AUG 8, 2021
Milwaukee, WI, US
$36
Black Crowes Tickets (Rescheduled from August 22, 2020)
AUG 10, 2021
Rogers, AR, US
$63
Black Crowes Tickets (Rescheduled from June 24, 2020)
AUG 11, 2021
Dallas, TX, US
$27
Black Crowes Tickets (Rescheduled from June 19, 2020)
AUG 14, 2021
The Woodlands, TX, US
$43
Black Crowes Tickets (Rescheduled from June 20, 2020)
AUG 15, 2021
Austin, TX, US
$42
Black Crowes Tickets (Rescheduled from June 17, 2020)
AUG 18, 2021
Chula Vista, CA, US
$45
Black Crowes Tickets (Rescheduled from September 18, 2020)
AUG 19, 2021
Inglewood, CA, US
$41
Black Crowes Tickets (Rescheduled from September 19, 2020)
AUG 21, 2021
Concord, CA, US
$40
Black Crowes Tickets (Rescheduled from September 8, 2020)
AUG 22, 2021
Mountain View, CA, US
$39
Black Crowes Tickets (Rescheduled from September 9, 2020)
AUG 25, 2021
Ridgefield, WA, US
$33
Black Crowes Tickets (Rescheduled From September 5, 2020)
AUG 26, 2021
Auburn, WA, US
$45
Black Crowes Tickets (Rescheduled from September 4, 2020)
AUG 29, 2021
Morrison, CO, US
$104
Black Crowes Tickets (Rescheduled from August 30, 2020)
AUG 30, 2021
Morrison, CO, US
$95
Black Crowes Tickets (Rescheduled from August 31, 2020)
OCT 21, 2021
Dublin, IE
€137
Black Crowes Dublin
OCT 23, 2021
London, LND, GB
£89
Black Crowes London
OCT 26, 2021
Manchester, Lancashire, GB
£110
Black Crowes Manchester
NOV 1, 2021
Amsterdam, NH, NL
€90
Black Crowes Amsterdam
NOV 2, 2021
Berlin, BE, DE
€279
Black Crowes Berlin
NOV 9, 2021
Barcelona, CAT, ES
€250
Black Crowes Barcelona
NOV 10, 2021
Madrid, MAD, ES
€80
Black Crowes Madrid
NOV 12, 2021
Lisboa, Lisboa, PT
€230
Black Crowes Lisboa