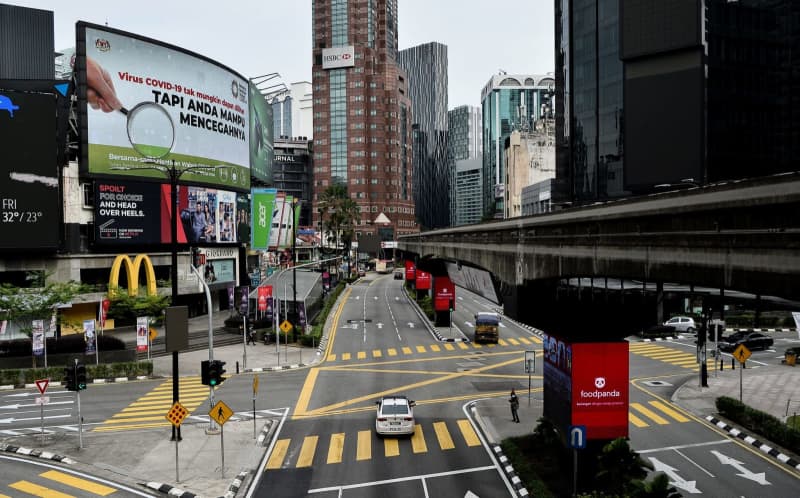 A two-week lockdown affectng Malaysia's commercial and administrative heartlands began on Wednesday, the day after authorities imposed a nationwide state of emergency.
Local television news reports showed lighter-than-usual traffic and footfall in Kuala Lumpur, the commercial capital, where people have been told to stay at home unless shopping for essential goods or commuting to work.
The six regions locked down for the next two weeks are home to around 55 per cent of the country's 32 million people, where economic output makes up around 65 per cent of gross domestic product.
Following the Monday lockdown announcement, the government on Tuesday said a state of emergency will also be imposed until August 1, meaning that parliament will not sit.
Opposition leaders have been backed by parliamentarians from governing coalition parties in criticizing the new rules as excessive.
Lim Guan Eng, leader of the opposition Democratic Action Party (DAP) and ex-finance minister, said on Wednesday that the suspension of parliament "should be revoked" so lawmakers can "bring up and compel the government to ... save jobs, businesses and livelihoods."
Three members of parliament have since yesterday withdrawn support for the government, leaving Prime Minister Muhyiddin Yassin atop a minority administration - though the suspension of parliament means that the government is unlikely to fall.
The Malaysian Bar on Wednesday described the emergency declaration as "overblown."
After reporting a record 3,309 new cases of the novel coronavirus on Tuesday, Malaysia's Health Ministry on Wednesday confirmed four coronavirus-related deaths and 2,985 new virus cases.
Four government ministers have tested positive for the virus in recent days.