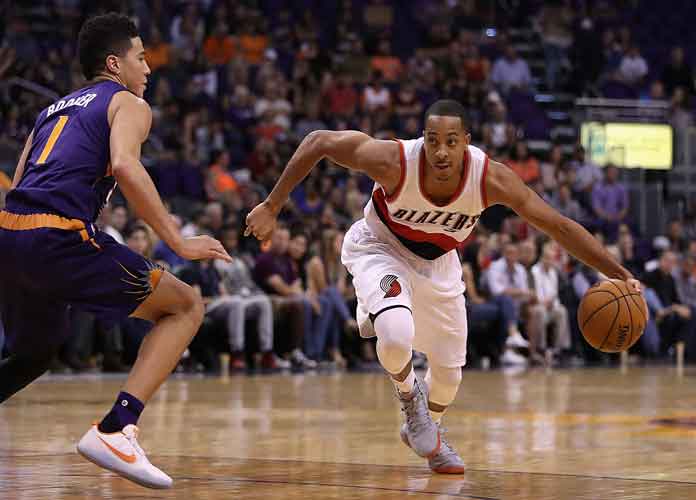 On Monday, the Portland Trail Blazers head coach Terry Stotts told reporters that CJ McCollum would have his foot evaluated in about a week. However, it was announced on Monday night that McCollum has a small hairline fracture in his left foot along with a mid-sprain. These injuries will keep him sidelined for at least four weeks.
As a result, the Blazers will be without one of their leading scorers, and until his return, McCollum will be in a walking boot. Just a week ago, McCollum hit a game-winning shot against the Toronto Raptors.
McCollum fell to his injuries on Saturday, as the Blazers reigned victorious over the Atlanta Hawks to the tune of 112-106. McCollum left the game at halftime just as a precaution. The team wanted to be cautious because McCollum has already broken his left foot twice during his career. Additionally, McCollum has been having himself a great season so far, averaging 26.7 points and 5.0 assists per game.
Later, McCollum underwent X-rays and an MRI, which further determined the extent of his injury. Without McCollum on Monday, the Blazers fell to the San Antonio Spurs by a score of 125-104, and the team's record fell to 8-6. The Blazers are going to have to play at least three more games without McCollum, including their back-to-back games.
It doesn't help that starting center Jusuf Nurkic will be out for the long haul after suffering a right wrist fracture last week. Expect Damian Lillard to pick up the slack in the absence of Nurkic and McCollum. Lillard will miss his backcourt partner as the Blazers look to retain their winning ways without two of their three best players in the upcoming weeks.
RELATED STORIES
New York Mets Fire GM Jared Porter For Sending Explicit, Unsolicited Texts To Reporter
Rockets Trade James Harden to Brooklyn In 4-Team Deal
Super Bowl LV Tickets On Sale Now