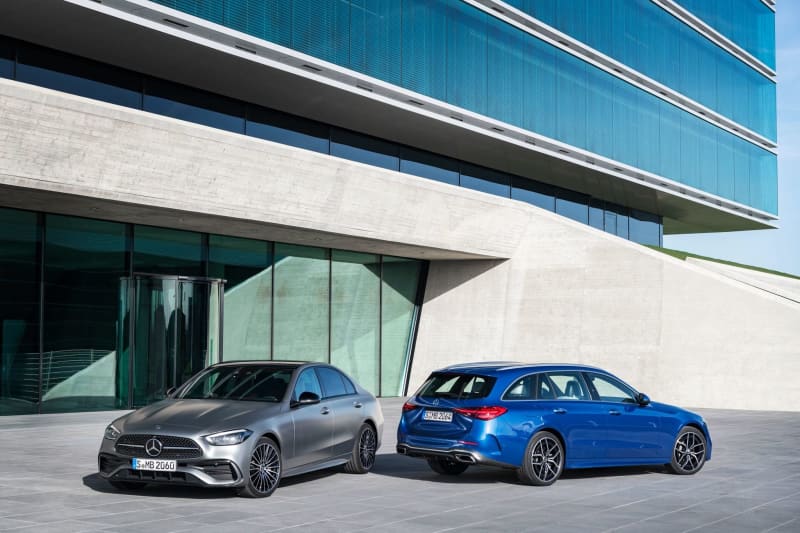 Mercedes has announced the world premiere of both the 2022 C-Class saloon and estate, with pre-orders starting in March and first deliveries in Europe expected in June.
No prices have been announced, but given the improvements and extended equipment, it's unlikely that the current starting price will drop.
Compared to its predecessor, the C-Class has grown in length by almost 7 cm and in wheelbase by almost 3 cm and now measures 4.75 metres in both body versions.
The luggage compartment remains unchanged at 455 litres for the saloon and increases by 30 litres for the estate at 490, expanding to up to 1,510 litres. However, chief engineer Christian Frueh promises significantly more space for the occupants, who can expect more knee, head and shoulder room, especially in the rear.
There is also a new interior inspired by the recently launched S-Class with a free-standing display behind the steering wheel and a screen in front of the centre console.
Although more spacious than before and as comfortable as ever, the C-Class aims to be sportier and more agile. The design features muscular power domes on the bonnet and the obligatory central star in the radiator instead of the star on the bonnet.
The chassis also features rear-axle steering for the first time in the C-Class. According to Mercedes, this reduces the turning circle by about half a metre and makes the C-Class look more manageable.
Under the bonnet, however, Mercedes is downsizing and only using four-cylinder engines. However, these are all electrified with a 48-volt generator.
According to Frueh, the petrol models will initially range from the C 180 with 1.5 litres displacement and 170 horsepower to the 2.0-litre C 300 with 258 hp as well as a C 220 d with 200 hp or a C 300 d with 265 hp for the 2.0-litre diesels.
The first versions with a plug-in hybrid and an electric range of more than 100 kilometres will also be available this year. Mercedes is planning these as petrol and diesel models with rear- or all-wheel drive.
Admittedly, the simultaneous debut of the estate is a first for the C-Class. But don't take this as a sign of plenty more options to come. In any case, Mercedes is not yet announcing a new Coupe or Cabrio in light of the current lockdown measures at home in Germany and elsewhere.
On the other hand, the Estate has apparently been infected by the SUV virus: According to chief engineer Christian Frueh, there will be an off-road estate called Allterrain with more ground clearance and rustic add-on parts before the end of this year, just like the E-Class.