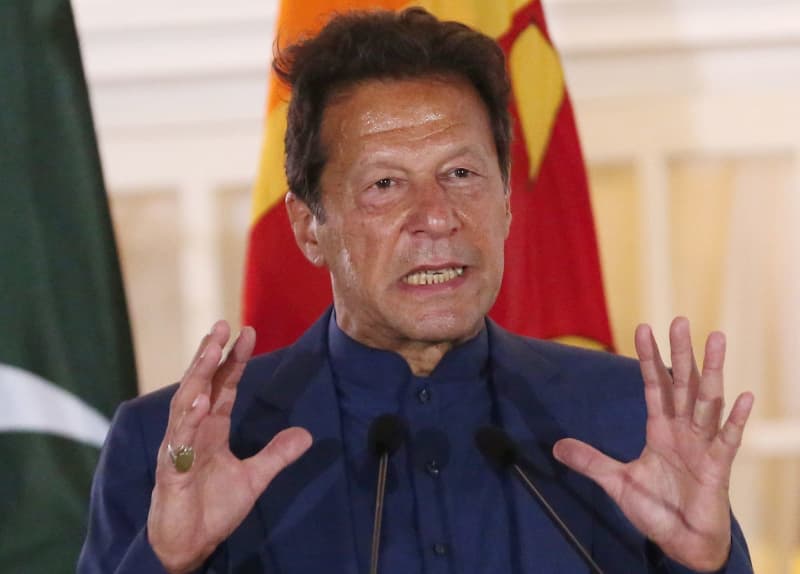 Pakistan's Prime Minister Imran Khan arrived for a a two-day visit in Sri Lanka on Tuesday to discuss a range of topics from politics to business, officials said.
Khan and his delegation were welcomed by his Sri Lankan counterpart Mahinda Rajapaksa at the Bandaranaike International airport at Katunayake, 23 kilometres north of the capital Colombo.
Khan is also scheduled to meet President Gotabaya Rajapaksa on Wednesday and take part in a business and investment forum.
On his first official visit outside the country this year, Khan is accompanied by a high-powered delegation of Pakistani business leaders and investors, including sectors such as textiles, pharmaceuticals, agriculture, sports goods, jewellery and automotive.
The Pakistani premier was originally scheduled to address Sri Lanka's parliament, but the event was postponed due to preparation issues related to the coronavirus pandemic.
Coinciding with Khan's arrival, Muslim groups on Tuesday organized a protest opposite the president's office in Colombo demanding that the government lift a ban on burying persons whose deaths are caused by Covid-19.
The around 700 protesters also demanded that the premier of Pakistan, a majority Muslim country, raise the issue during his visit with the Sri Lankan leadership.
The protesters say that the government ban on burying victims of Covid-19, who are instead cremated due to to contamination concerns, violates Muslim faith.