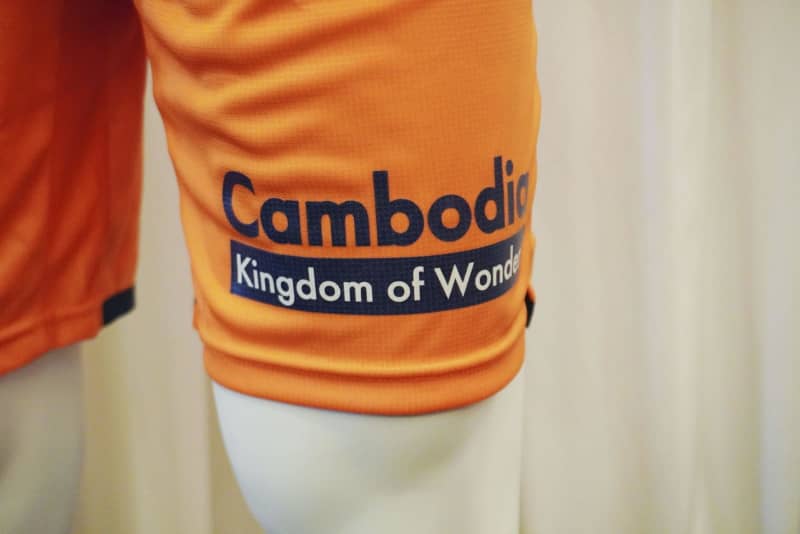 Shimizu S-Pulse became the first J-League club to bear a country's name on their uniforms through a sponsorship deal this season in support of Cambodia, whose tourism industry has been dealt a heavy blow by the coronavirus pandemic.
The country's name in English appears above the logo "Kingdom of Wonder" on S-Pulse uniform shorts in collaboration with S-Pulse's top sponsor this season, local chemical maker Taika Corp., which established an affiliated company in the country in 2012 to set up a factory and has been donating writing utensils and futsal courts there since 2016.
"We are very grateful for this opportunity. I have a strong desire to serve as a bridge between Japan and Cambodia," S-Pulse President Shinya Yamamuro said in February. "I hope people in Cambodia become interested in the J-League, and become fans of S-Pulse, too."
The logo is also used by Cambodia in its tourism promotion. The first-division side is planning to have a "Cambodia Day" at a home game, and soccer clinics in Cambodia are being considered after the pandemic.
"Through this a wider range of people will learn about Cambodia," Cambodia's ambassador to Japan Ung Rachana said as he welcomed the deal, while J-League Chairman Mitsuru Murai, eager to boost his league's popularity in Asia, also embraced it.
"I'm so happy that a club can take part in this kind of exchange," he said.
S-Pulse has a history of exchanges in Southeast Asia, notably in Thailand, while Cambodia's soccer ties with Japan have developed in recent years with former Japan and AC Milan midfielder Keisuke Honda becoming the national team's general manager in August 2018.
"We want to do what we can to support our local community (by sponsoring S-Pulse) while also contributing to the international community," Taika President Taito Suzuki said.
"I hope the logo catches the eye of not just S-Pulse fans but other Japanese soccer fans as well, and help raises people's interest in and awareness of Cambodia."