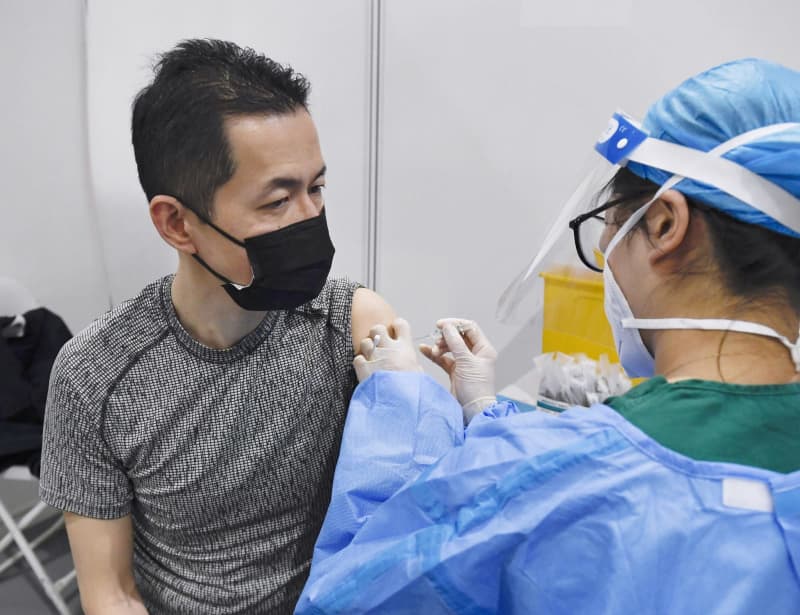 China provided coronavirus vaccinations to foreign journalists in Beijing on Tuesday in an apparent bid to advertise the safety of its home-developed medical products with the attempt to boost its global clout through "vaccine diplomacy."
Many journalists from other nations such as Japan and Australia as well as their family members, aged between 18 and 59, gathered in a part in the Chinese capital to receive the Sinovac vaccine, which costs 90 yuan ($13.8). They will get their second dose in April.
Before being inoculated, they signed a document saying in English, "No vaccine is 100% effective, and as personal health conditions vary from people to people, some may still be infected or develop symptoms after vaccination."
Another document said China decided to offer vaccinations to foreign journalists in Beijing "in order to facilitate the work and life," but it added, "Recipients will still need to comply with all the prevention and control requirements after vaccination."
It took around 10 minutes for foreign journalists to receive the vaccine after registration. Following inoculation, they were required to stay in an observation area for 30 minutes.
"I do not think I will be infected with the virus in China, but vaccine inoculation may be necessary in the future when I make a business trip," a journalist working for a U.S. media organization told Kyodo News.
The Chinese Foreign Ministry said earlier this month that it has since March 15 provided visa facilitation to "incoming foreigners who have received Chinese vaccines and hold a vaccination certificate" to resume "international travel in an orderly fashion."
Chinese vaccines, however, have yet to be approved in many other countries including Japan.
In China, its citizens have already started receiving vaccines across the nation, although the increase in new infections with the virus that causes COVID-19 disease peaked in late February 2020.
China has also donated novel coronavirus vaccines to developing countries in Asia and Africa to promote "vaccine diplomacy." In January, Indonesian President Joko Widodo received a vaccine produced by Chinese pharmaceutical giant Sinovac Biotech Ltd.
The virus that erupted into a pandemic was first detected in the central Chinese city of Wuhan in late 2019.