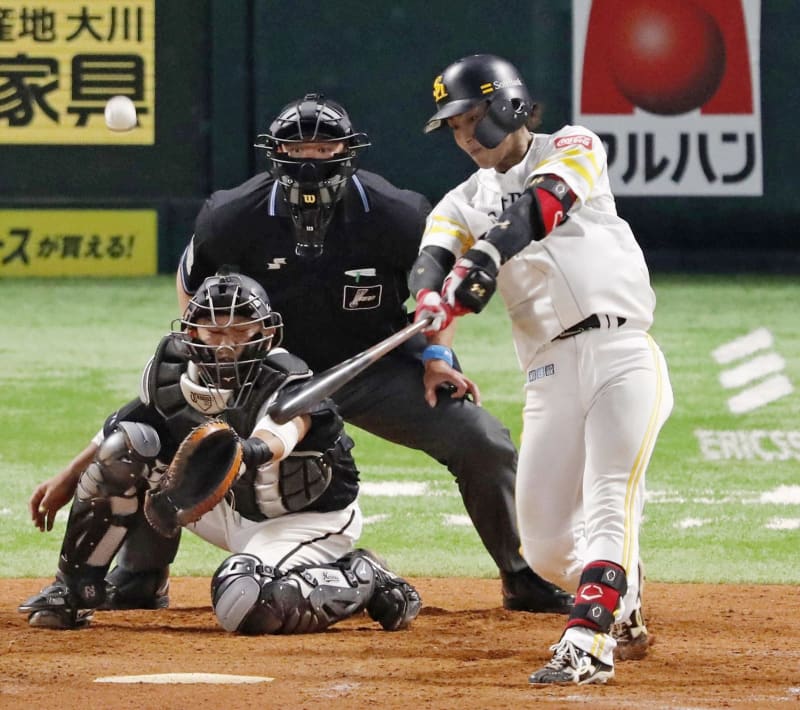 SoftBank Hawks shortstop Kenta Imamiya starred on both sides of the ball in Saturday's 3-2 Pacific League win over the Lotte Marines.
At Fukuoka's PayPay Dome, Imamiya twice robbed the Marines of infield singles with his glove and arm. He doubled and scored one run and then ended the game with a ninth-inning fly double over the drawn-in Marines outfield to plate the winning run.
Imamiya's glove work enabled Hawks starter Rei Takahashi to allow just two runs despite walking seven batters over 6-1/3 innings and hitting two more.
"I was glad to be able to make some good plays, because it was the first day game so kids could be in the stands to watch," said Imamiya, who missed most of the 2020 season due to injury.
Trailing 2-0 in the sixth, Imamiya doubled off Marines right-hander Manabu Mima and scored on a Yurisbel Gracial single. Mima allowed a run over six innings. His replacement, Yuki Karakawa, invited disaster in the seventh, but survived thanks to his defense.
With two outs and the Marines' outfield playing in tight to prevent the runner on second from scoring on a ground single, Imamiya lined a pitch to center that had "three-run double" written on it. Center fielder Kyota Fujiwara, however, rewrote that scenario by racing back for a spectacular leaping grab to preserve Lotte's lead.
The Hawks tied it in the eighth on singles by Gracial and Alfredo Despaigne, and closer Yuito Mori (1-0) worked a 1-2-3 ninth to set up the game-winning run.
Leadoff man Ukyo Shuto singled and took second on an errant pickoff throw by Marines closer Naoya Masuda (0-1), and with two outs Imamiya delivered the game winner with a fly too far for even Fujiwara to haul in.
"Their outfielders were playing so far forward. I thought if I put a good swing on it I could get it over them," Imamiya said.
At Metlife Dome, Orix Buffaloes lefty Hiroya Miyagi (1-0) struck out eight while allowing two runs, one earned, over seven innings in a 3-2 win over the Seibu Lions.
At Sendai's Rakuten Seimei Park Miyagi, Kensuke Kondo paced the Nippon Ham Fighters with two singles, a triple and four RBIs in their 9-4 win over the Rakuten Eagles.
At Tokyo's Jingu Stadium, marquee rookie Teruaki Sato blasted his first pro hit, a two-run first-inning home run for the Hanshin Tigers in their 9-5 Central League win over the Yakult Swallows.
At Tokyo Dome, Takayuki Kajitani's first hit since joining the Yomiuri Giants as a free agent from the DeNA BayStars was a grand slam against his old team in a 10-5 Giants win.
At Hiroshima's Mazda Stadium, Allen Kuri (1-0) struck out six while allowing a run over six innings for the Hiroshima Carp in a 4-1 win over the Chunichi Dragons.