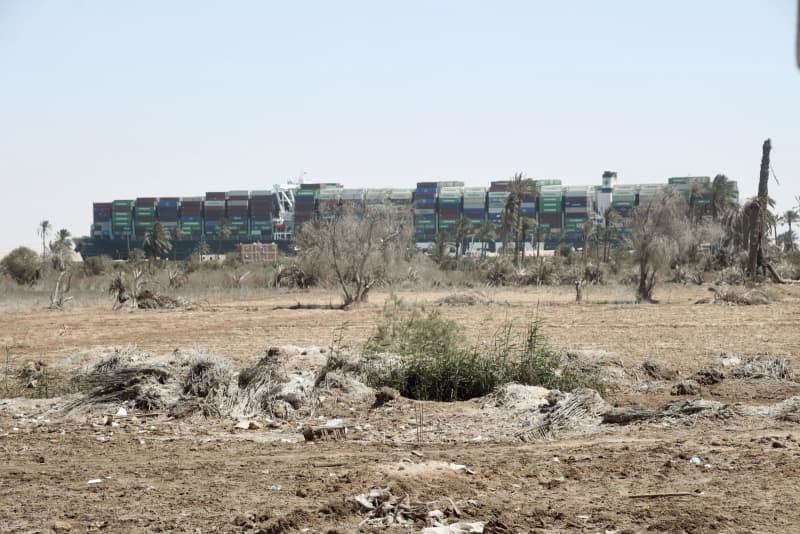 A massive container ship that has been wedged in the Suez Canal in northeastern Egypt has partially refloated, the Suez Canal Authority said Monday, giving some hopes to break the impasse in the crucial international waterway after almost a week.
The stern of the 400-meter-long Ever Given "has moved 100 meters," a source related to rescue efforts has said, while online information shows the vessel changed its position, opening some space in the canal.
But it remains unknown when the ship, blocking one of the world's heaviest shipping lanes since Tuesday, will be completely freed.
The authority said tugboats are being used to dislodge the vessel, operated by Taiwan's Evergreen Marine Corp. and owned by Japanese ship-leasing Shoei Kisen Kaisha Ltd.
Some progress was made over the weekend, with Osama Rabie, the authority's head, saying the ship moved 4 meters on Saturday but eventually was stuck again.
Dredging efforts have also been ongoing, and authorities had been eyeing refloating the boat at high tide with the help of a Dutch company.
If the attempts fail, cargo will have to be removed to lighten the ship, which will likely prolong the operation.
The bottleneck has caused more than 300 ships to wait to enter or complete their journey through the canal connecting the Mediterranean and the Red Sea, while forcing others to reroute.
The ship was on its way to Rotterdam in the Netherlands from China.