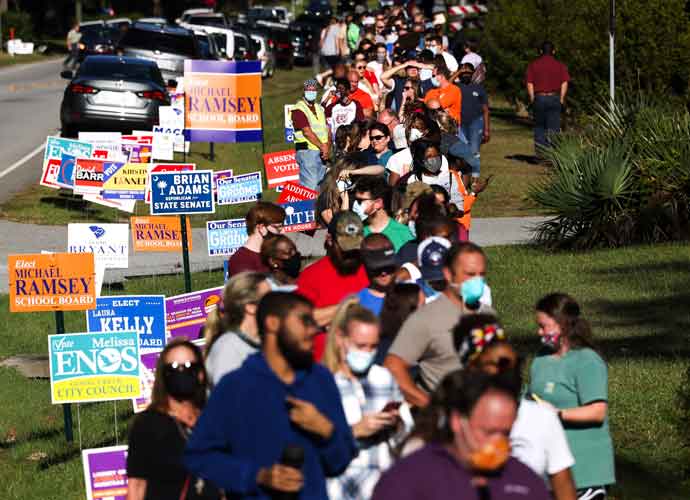 Georgia lawmakers recently passed a massive voter restriction bill that will make giving food or water to voters standing in line a misdemeanor crime. The bill seeks to expand existing laws that prohibit offering gifts to voters at polls.
Prior to March 2021, there was a loophole in the existing law regarding "gifts" for voters waiting in line – voting-rights groups could legally supply free food or water to voters, so long as they made the amenities available to everyone – including passersby.
However, on March 25, the Georgia General Assembly decided to update existing state provisions in order to penalize people who provide free food or water to voters.
Secretary of State Brad Raffensperger (R) explained that the decision to update the law was made in an attempt to penalize those who had previously been able to supply free food or water. "The language in the bill is targeting people who try to take advantage of that loophole," he said. "But any effort to provide gifts of any kind to voters particularly is already against Georgia law."
Raffensperger has also claimed that giving out "gifts" to voters, such as food and water, qualifies as a form of "line warming," or even voter intimidation.
Just before the 2020 election, Raffensperger wrote the following in a news release: "Political organizations or advocacy groups will use the giveaways or gifts, known as 'line warming,' to inappropriately influence voters in the crucial final moments before they cast their ballots. Such efforts violate the protections Georgia law has placed on campaigning near a polling location or voting line and the prohibitions on providing rewards to voters that were enacted to stop pay-for-vote schemes."
Cliff Albright, co-founder of the Atlanta Black Lives Matter chapter, claims that this legislative change is racially charged, given that minority voter generally face much longer voting wait times than white voters. "Clearly, the attack is based on when it is and how it is that they know black voters are being mobilized to turn out," he said. "They know that they can't win elections if we actually expand access to voting or even if we just maintain it."