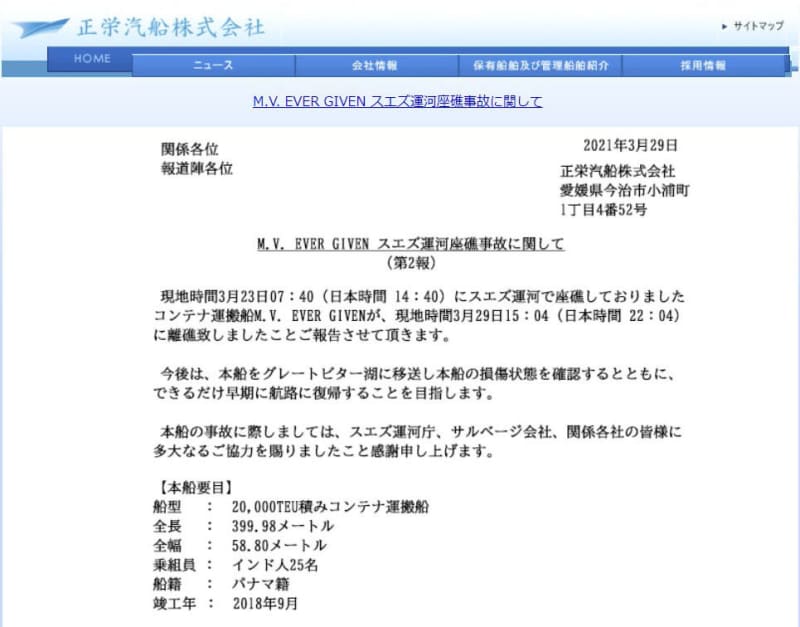 The Japanese company that owns a massive container ship that had blocked the Suez Canal said Tuesday it will handle the accident "in accordance with international law," a day after the vessel was dislodged and traffic in the vital international waterway resumed after nearly a week.
Asked about what to do with a possible compensation payout involving the Panama-flagged ship, an official of ship-leasing company Shoei Kisen Kaisha Ltd. told Kyodo News, "We cannot comment on the matter as we have not heard anything in detail yet."
The company, based in Imabari, Ehime Prefecture, will try to examine the cause of the accident that ensnarled the shipping lane in northeastern Egypt, the official said, adding, however, "All of our employees are relieved" to know that the vessel, operated by Taiwan's Evergreen Marine Corp., has been refloated.
The latest development comes after some progress was seen in clearing one of the world's heaviest waterways, which had been blocked by the 400-meter-long 220,000-ton Ever Given since March 23.
In a press release, Shoei Kisen has expressed gratitude to authorities and people involved in the salvage operation of Ever Given and said it will aim to put the ship back on track as soon as possible after assessing damages once it has been transferred to the Bitter Lakes waiting area for inspection.
In a statement dated Monday, Osama Rabie, head of Egypt's Suez Canal Authority, said that the ship "has been successfully refloated."
While confirming that traffic resumed in the canal, Rabie told reporters in the northeastern city of Ismailia it will take three or four days for the canal traffic to return to normal, with 422 ships forced to wait in the canal and nearby waters.
President Abdel Fattah el-Sisi had tweeted a successful end to the crisis.
Earlier, the authority reported that crews had managed to get the colossal vessel partially refloated.
Some progress was made over the weekend, with Rabie saying the ship moved 4 meters on Saturday but eventually was stuck again.
Dredging efforts have also been carried out, and authorities had been eyeing refloating the boat at high tide with the help of a Dutch company.
The traffic jam has caused hundreds of ships to wait to enter or complete their journeys through the canal connecting the Mediterranean and the Red Sea, while forcing others to reroute.
The ship was on its way to Rotterdam in the Netherlands from China.