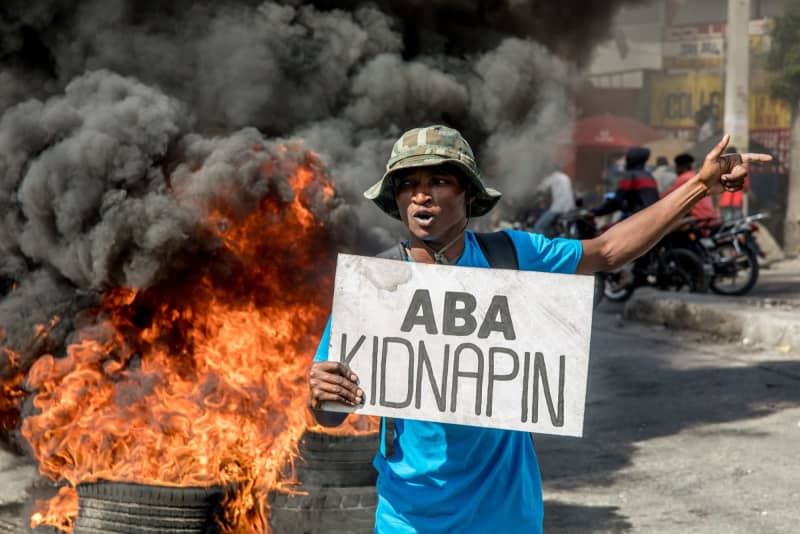 For Haiti, it was a new low.
Four people, including a pastor and a well-known pianist, were kidnapped late Thursday night — and it all played out live on social media.
The group, members of the Seventh-day Adventist Gospel Kreyòl Ministry Church in Diquini on the outskirts of metropolitan Port-au-Prince, were performing live on Facebook and YouTube in a studio adjacent to their church when a heavily armed man walked up to the stage and abducted them. The incident was confirmed by Dr. Gregory M. Figaro, whose father, Greger Figaro, is the founder of the ministry.
"If this can happen, then anything is possible in the country because there is no respect for any institution, whether it's a church or school," Figaro told the Miami Herald. "They are even grabbing people from inside their home."
Figaro said he was present during the incident, which many Haitians initially thought was an April Fools' joke or poorly acted skit. He heard a knock on the door, then saw a man standing in the doorway with a gun. "At first I couldn't believe it," he said. Then after the man was hit by the door, Figaro said, he saw the armed men enter. Figaro and others immediately ran for a small hallway inside the studio to take cover.
There were 10 to 15 people present during the livestream, he said. The armed bandits, he said, numbered between eight and nine and came in two vehicles.
"It was only after I heard one of the women, the one on the video, crying in the hallway that I realized what had just happened," Figaro said. "When we came out of the hallway, we saw that the guys had left."
The kidnapped individuals included two technicians, Steven Jérome and Francisco Dorival, along with pastor Audalus Estimé and musician Welmyr Jean-Pierre. Jean-Pierre is a well-known pianist who has performed alongside Beethova Obas, a famous Haitian musician and composer based in Europe. Two women who were also in the studio managed to get away, Figaro said.
Obas immediately took to Twitter after hearing the news, asking for Jean-Pierre's freedom in Creole and English.
"Welmyr my little brother, I know your love for this country #LibereWelmyr#welmyrjeanpierre#FreeWelmyr."
The kidnapping unfolded two hours and 23 minutes into a worship service titled "15 Days of Thanksgiving and Praise." Minutes before, Estimé was preaching about the power of God, telling the audience that "Satan has his limits," but "the power of God can reverse anything regardless of the situation."
"If you know someone who is sick, add their names. We are going to sing in the name of Jesus," Estimé said.
Then, in the middle of a song, Jean-Pierre, standing to the right of the pastor, can be seen ducking, while Estimé was looking at his Bible and a young woman continued to sing. The woman tried to continue singing but then stopped. After crouching on the floor near the podium, all stood up as Estimé folded his arms in a sign of resistance.
An unmasked heavily armed man wearing a dark shirt then appears on the screen motioning for them to come with him. The woman managed to get away when the man went back to grab Estimé.
The kidnapping unfolded on Holy Thursday, during what is traditionally a deeply religious week in Haiti, with revivals in Protestant churches and Mass and processions in Catholic churches. It has shaken not just the Adventist community but Haitians in and outside of the country, who fear that the country's proliferating armed gangs are becoming increasingly emboldened as insecurity spreads.
"The situation is hard. We should not be talking about this. We are currently in Holy Week," Obas told the Herald from Belgium. "It's Holy Thursday and this guy enters a church and kidnaps people in front of a camera. It's a sanctuary, you should have respect for this place."
Haiti is seeing an alarming spike in kidnappings, which have increased by 200% over the past year. While no one is immune from the phenomenon, this latest kidnapping is the second high-profile abduction to hit Haiti's Seventh-day Adventist community.
In December, Elie Henry, head of the Seventh-day Adventist Inter-American division and a Miami-based church leader, was held for ransom along with his daughter, a physical therapist. They were kidnapped on Christmas Eve and eventually released.
Like many Haitians who received a copy of the video shortly after the incident, Henry at first did not believe what he was seeing. The studio is located not far from the mayor's office in the city of Carrefour, a suburb south of the capital on the edge of metropolitan Port-au-Prince. The community has several churches, and Henry said he doesn't know why the studio was targeted.
"We are without words and torn by all kinds of emotions over what is happening," Henry said. "We have to hold onto faith and put more confidence in God."