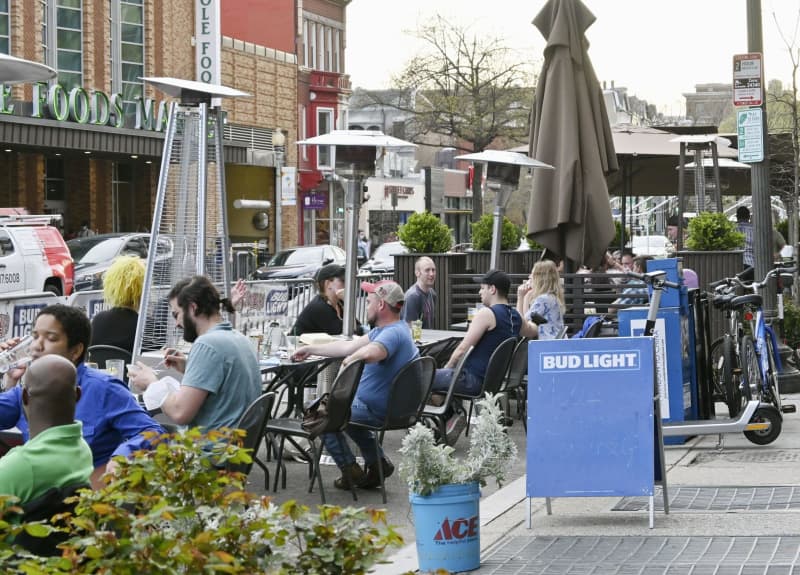 The International Monetary Fund on Tuesday raised its forecast for global growth by 0.5 percentage point from its January estimate to 6.0 percent in 2021, reflecting a boost from the latest massive U.S. coronavirus economic relief package.
The expansion would be the largest in four decades of publicly available data from the IMF, marking a sharp turnaround from a 3.3 percent contraction last year -- the worst peacetime decline since the Great Depression -- due to the coronavirus pandemic.
While also upgrading the global growth outlook for 2022 by 0.2 point to 4.4 percent, IMF chief economist Gita Gopinath warned that recoveries are "diverging dangerously" across and within countries as some economies fall behind due to slower vaccine deployment, more limited policy support and higher reliance on tourism.
A key contributor to the brighter outlook has been the United States, which came up with a $1.9 trillion fiscal package in March on top of last year's historic $2 trillion package and additional legislation providing $900 billion to support businesses and households struggling due to the economic fallout from the pandemic.
The most recent package is expected "to deliver a strong boost to growth in the United States in 2021 and provide sizable positive spillovers to trading partners," the Washington-based institution said in its World Economic Outlook report.
The IMF projects that growth in the United States in 2021 will recover to 6.4 percent from a year before, up 1.3 points from its January estimate, and moderate to 3.5 percent in 2022, up 1.0 point.
China, the world's second-largest economy, is expected to see a 0.3 point higher growth at 8.4 percent in 2021, and 5.6 percent growth in the following year, unchanged from the January forecast.
Japan, whose major trade partners include the United States and China, has also seen its growth outlook upgraded by 0.2 point to 3.3 percent in 2021 and by 0.1 point to 2.5 percent in 2022.
The country's recent decision to bar overseas spectators from the Tokyo Olympics and Paralympics this summer is unlikely to have a major impact, given that its economy is not heavily reliant on tourism and that infrastructure investment for the games -- a major factor to lift the economy -- has already been made.
Meanwhile, growth estimates for the eurozone in 2021 and 2022 were revised up 0.2 point each to 4.4 percent and 3.8 percent, respectively.
As the recovery strengthens, growth in global trade is projected to be 0.3 point higher than the January forecast at 8.4 percent in 2021 following an 8.5-percent decrease in 2020.
Among advanced economies, the United States is expected to surpass its pre-pandemic gross domestic product level this year, while many others will return to such levels only in 2022.
As for emerging markets and developing economies, China, where effective virus-containment measures and public investment response facilitated a strong recovery, had already returned to its pre-pandemic GDP level last year. But many other economies in the category are not expected to do so until well into 2023, the IMF said.
The IMF said swift policy action worldwide, including $16 trillion in fiscal support and continued monetary accommodation, prevented far worse outcomes from the pandemic, which raged globally after the virus was initially detected in China in late 2019.
Because a financial crisis was averted, medium-term global output losses from the pandemic are expected to be smaller than those after the 2008 global financial crisis, at around 3 percent, according to the IMF.
But unlike after the 2008 crisis, it is emerging markets and low-income countries that are expected to suffer greater scarring given their more limited policy space, it said.