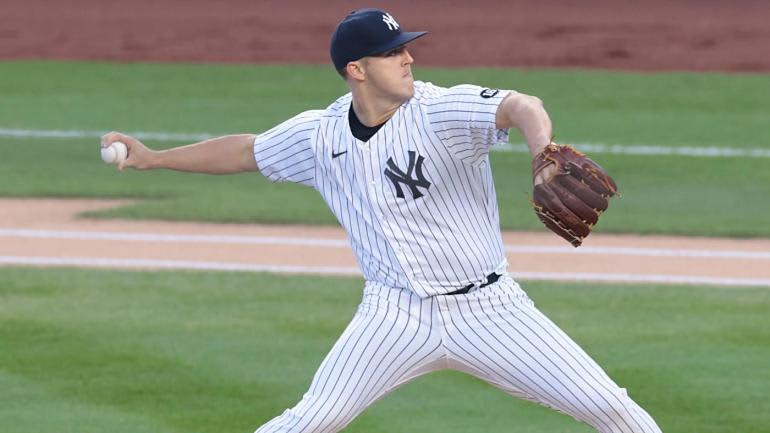 One year, 10 months, and six days. 707 days,, total. That's how long it had been since Jameson Taillon was on a big-league mound in the regular season. For the first time since May 1, 2019, Taillon started a regular-season game on Wednesday, one day after his good friend and former Pittsburgh Pirates teammate Gerrit Cole pitched a masterpiece. The former second overall pick missed the last month and a half of 2019 and all of 2020 after undergoing his second Tommy John surgery in August 2019.
The Yankees acquired Taillon from the Pirates in January as part of a five-player deal that sent right-handed pitchers Miguel Yajure and Roansy Contreras, as well as infielder Maikol Escotto and outfielder Canaan Smith to the Pirates. He has two years remaining on his contract, so New York has him for this year and next.
The comeback trail for the right-hander began with a solid performance as he donned the Yankee pinstripes. The Yankees had him on a 75-pitch pitch count limit as he gets ramped back up to pitching every fifth day again. His first turn in the rotation was skipped over during the opening weekend to line him up for last night. Taillon pitched two outs into the fifth inning before being lifted for Nick Nelson. His 74th and final pitch was a 94 mph fastball that got Freddy Galvis to swing and tip into the glove for his seventh strikeout of the night.
Deeper Dive
Taillon really only had two mistakes. Both of them got turned on for home runs by Anthony Santander and Cedric Mullins. Other than that, he had seven strikeouts, walked no one, and allowed just one other hit. His stuff looked tremendous all night. He got 11 whiffs on 35 swings – five on his fastball, four on his slider, and two on his curveball. Of his 74 pitches, Taillon threw 31 fastballs for an average velocity of 93.3 mph and a max of 95 mph. He threw his slider 23 times, curveball 17 times, and changeup three times. 47 of the 74 pitches were for strikes, 11 of them on the called strike variety.
)
On his slider, Taillon had a 43 percent CSW, which is the percentage of called strikes plus whiffs. His arm action was noticeably shorter than it had been when he last pitched in 2019. The slider sat around 86.7 mph and topped out at 88.6 mph. His curveball had a solid spin rate as it maxed out at 2966 rates per minute (rpm) and averaged 2815 rpm.
)
When Taillon left the game, the Yankees were trailing 2-1. Taillon was let off the hook for a loss after the Bombers tied the game in the eighth. The Yankees wound up losing the game, 4-3, in 11 innings. They now have an off day today before traveling to Tropicana Field to begin a three-game series with the Tampa Bay Rays on Friday.
---
Check us out on our socials:
Twitter: @PTSTNews and @TalkPrimeTime
Facebook Page: Prime Time Sports Talk
Join our Facebook Group: Prime Time Sports Talk
Instagram: @ptsportstalk
Follow Alex Kielar on Twitter @AlexKielar
Main Image Credit: From CBS Sports