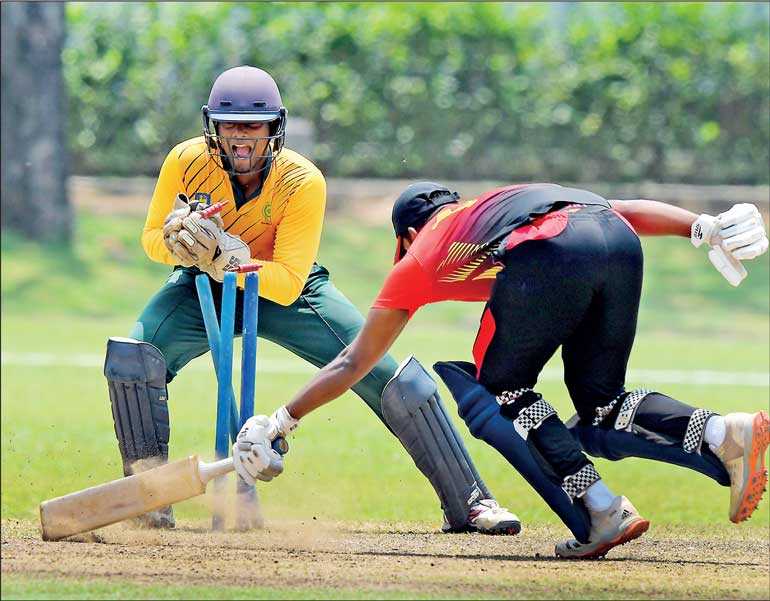 Plenty of action is in store in the two semi-final matches at CCC and NCC today
---
By Sa'adi Thawfeeq
NCC and Ragama CC will be the teams to watch when the SLC Major Limited-Over Inter-Club semi-finals takes place in Colombo today.
Last year's losing finalists NCC, are in top form, having won all six matches, and are set to confront a confident Badureliya CC in the first semi-final at the CCC grounds, while Ragama CC, who also have a similar record to NCC and have played some outstanding cricket, take on an Army SC side brimming with confidence, after defeating a strong SSC side in the quarters, in the second semi-final at the NCC grounds.
The big question is will NCC and Ragama CC be able to continue in their winning vein till the final or will one of their opponents put a spoke in the wheel? In fairness to their opponents, Badureliya CC and Army SC are also unbeaten in the tournament, although not with a 100% record, as some of their matches have ended in a No-Result.
NCC, under the leadership of Angelo Perera, have been formidable, and they seem to have all options covered to take on any opponent as they have so far displayed in the matches played so far. What is fearsome about them is that they often have a habit of topping the 300-run mark or thereabouts, which gives them enough openings to set attacking fields and thereby create chances for their bowlers. In the six matches played so far they have passed the 250-run mark on five occasions, going over 300 twice, including the quarter-final game against Navy SC on Wednesday.
Badureliya CC's main task is how their bowlers can curb NCC's run flow and keep them to a total which is within their reach. They have the bowlers to contain them but not a strong batting line-up.
The Ragama CC-Army SC could turn out to be close encounter as both sides are equally matched in batting as well as bowling. What Ragama CC should be wary about is Army's strong spin attack that has choked many a strong batting line-up in the competition. The Army's batting can be contained if Ragama CC can get their big-hitting captain Thisara Perera early as SSC did in the quarter-finals, restricting them to 198. It has been their fighting qualities to emerge victorious when the chips are down that have made them a dangerous side. Army SC will be keen to improve on their semi-final performance of last year when they lost to NCC, while Ragama CC would want to keep their unbeaten record intact and look forward to a meeting with NCC in the final.