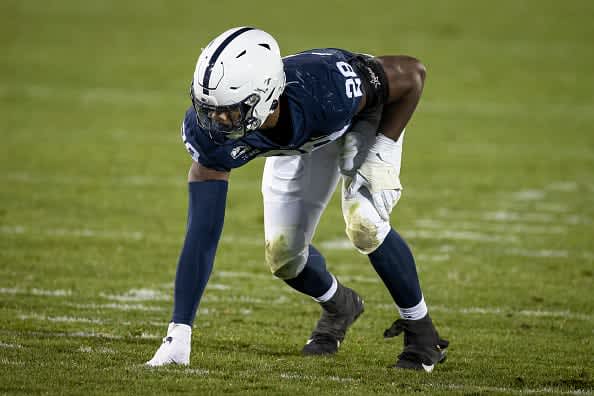 Coming off of their first playoff victory in 26 years, the Cleveland Browns enter this postseason with a strong foundation. Not just that, but they seemingly have the right people building a contender again on the shores of Lake Erie.
Kevin Stefanski and Andrew Berry knew they needed to improve the defense and added Josh Johnson III and Troy Hill off of the Los Angeles Rams. Defensive end Takkarist McKinley, a former first-round pick, is a low-risk/high reward free-agent addition. These pickups should do well to improve upon last season's 21st-ranked defensive unit. Despite those additions, there are still concerns for the Browns at all three levels in the defense. Additionally, there's a need for greater depth of talent on offense. With nine picks in the 2021 NFL Draft, the Browns are now in the position of drafting to contend, not just compete. Here's how it could play out.
For this process, I used the Pro Football Network simulator to generate picks by the other teams. No trades were allowed to be made by the Browns.
Make sure to check out all of our other NFL Team Mock Drafts.
Round 1, Pick 26: Jayson Oweh, EDGE, Penn State
Myles Garrett has been everything and more than the Browns needed him to be when they drafted him first overall in 2017. The only issue has been availability, or lack thereof at times, due to injury or the 2019 suspension. When Garrett isn't on the field, there's a severe drop-off, and when on the field, he's seemingly the lone threat. The previously mentioned McKinley may provide help, but even so, he's on a one-year contract. Using the first pick on Oweh, though raw and inexperienced, is an investment for this year and the future.
In the simulation, Caleb Farley was available to the Browns at 26 and fitted a need at cornerback. With greater need being at the defensive end position, combined with Farley's injury history, Oweh gets the edge to be Cleveland's selection. At 6'5" and weighing 257 lbs, Oweh's profile gives the Browns an ideal canvas to develop Garrett's running mate on the defensive line. His run defense may be a concern, especially for the AFC North, but with Garrett, Oweh will be learning from one of the best. He has a real chance to pass McKinley.
For more on Oweh, check out our scouting report on him here.
Round 2, Pick 59: Daviyon Nixon, DT, Iowa
The Browns entered this offseason knowing that they needed to address the defense heavily; Taking Nixon with their second pick shows continued commitment to addressing that. A bit undersized on the interior at 6'3", it is Nixon's quick-play responsiveness on the line, especially in screen situations, that push the Browns to select him here. His sound foundation of technique combined with his physical attributes is something that the Browns can work with.
Like Oweh drafted before him, Nixon won't step in with the pressure to be the man, as Sheldon Richardson is still the primary tackle. With Garrett picking his spot along the line and Oweh on the end, Nixon can contribute from day one. Richardson will still be taking the bulk of the attention up the middle, so there's less pressure on Nixon. With a stacked defensive front, he just has to fit his role and should carve out a nice one early.
Round 3, Pick 89: Pat Freiermuth, TE, Penn State
In the 2020 NFL Draft, Harrison Bryant fell to the third round, where Kevin Stefanski and Cleveland snagged the John Mackey Award winner. Honored as the best tight end in college in 2019, Bryant was a selection to last season's All-Rookie First Team. As with Bryant, Freiermuth is a "best-player-available" selection that also fits the Browns offensive scheme. Bryant was actually considered an upset for the Mackey, as some felt Freiermuth was snubbed.
At 6'5", 251 lbs, Freiermuth is a complete tight end, a recognized blocker, who also set Penn State's record for receptions at the position. Freiermuth would provide the Browns with a more fundamental player than David Njoku has shown to be in his four seasons in Cleveland. Njoku has had his moments, but Freiermuth being available at pick 89 overall is too good to pass on for Stefanski's offense. Of course, the selection of Freiermuth means that Njoku is extremely likely to be traded or released, as the pick would surely upset the veteran again.
For more on Freiermuth, check out our scouting report on him here.
Round 3, Pick 91: Robert Rochell, CB, Central Arkansas
NFL.com rates Rochell's career projection as a solid backup player with the potential to develop into a starter. In Cleveland, that's exactly what they're looking for, as the starting corner spots are filled, barring injury. Greedy Williams looks to return from a nerve injury that kept him out in 2020, and Denzel Ward is coming off a Pro Bowl season. The addition of Troy Hill locks down the third corner spot.
Rochell is long and fast, making him ideal for the AFC North Browns. He benefits greatly as well, as defensive coordinator Joe Woods was a longtime defensive backs coach in the NFL before. Rochell does have some injury history, and health in the secondary has been an issue for Cleveland. The position needs to be addressed, and a third-round pick is worth the chance on a player like Rochell.
For more on Rochell, check out our scouting report on him here.
Round 4, Pick 110: James Hudson, OT, Cincinnati
In 2020, the Browns had the best offensive line in the league. Coupled with opinions that the Browns need to add another receiver, picking an offensive lineman could seem odd. However, the Browns rely on their line, to open holes for Nick Chubb and Kareem Hunt. Drafting Hudson out of Cincinnati adds depth and can develop well under Bill Callahan.
The Ohio native is a raw, agile talent, with ideal size (6'4") to play in front of a shorter quarterback like Baker Mayfield. Reports are that he needs a lot of technique work, especially on pass protection, and Callahan is just the start to correcting that. Playing alongside linemen like Joel Bitonio, Jack Conklin, and J.C. Tretter, as well as Jedrick Wills and Wyatt Teller, Hudson would be in great hands.
Round 4, Pick 132: Daelin Hayes, EDGE, Notre Dame
In the fourth round, Cleveland picks up their second edge rusher in the draft, taking Hayes out of Notre Dame. The career statistics for Hayes aren't what you'd expect from a five-year player. He recorded just 97 tackles and nine sacks in his time with the Fighting Irish. He has an ideal build for an edge rusher, standing at 6'4" and 258lbs, but is a day-three selection due to lack of experience.
The physical profile is attractive to Cleveland, and as with Oweh, they have the personnel to develop him. What drives them to the selection, however, is the character he possesses as well. Coach Stefanski looks at the complete player, and according to SI.com, Hayes makes sense. He was a team captain in 2020 and a Mayo Clinic Comeback Player of the Year finalist. He was also a Jason Witten Collegiate Man of the Year finalist for last season. The culture is changing in Cleveland, and Hayes is a fit both on and off the field.
Round 5, Pick 169: Camryn Bynum, CB, Cal
As mentioned before, the Browns can't have too many defensive backs, and the Bynum pick stems from that. Right off the bat, Bynum checks the leadership boxes after having been a team captain twice. A four-year starter, he also improved each year, earning all-conference first-team honors last season. He's smart and has decent size on the field but leaves a lot to be desired as a cornerback at the next level. A potential switch to safety, however, is why Cleveland picks him.
The Johnson signing and acquisition of Ronnie Harrison last season will give the Browns their starters at safety. Grant Delpit, the team's second-round pick last year out of LSU, is scheduled to return from last season's ACL injury. Sheldrick Redwine is the team's fourth safety. Bynum is an insurance plan for the secondary, with an abundance of experience at corner and a good IQ to play safety.
Round 6, Pick 211: Javian Hawkins, RB, Louisville
The Browns already have a pair of Pro-Bowl caliber running backs in Chubb and Hunt. Both are physical, downhill runners who are threats to catch as well. The AFC North is a tough, physical division, so having that crack of lightning that's maybe faster than what the defenses are built for could be big. Stefanski got crafty last season, playing with receiver passes and end-arounds. Remember the Odell Beckham Jr. run against Dallas? If the second-year coach were to want more of those plays, getting Hawkins in the sixth round would be nice.
Round 7, Pick 257: Nick Niemann, LB, Iowa
The linebacker play for Cleveland in 2020 was hit and miss, with rookie Jacob Phillips dealing with an injury, and inconsistent play from Mack Wilson. One of the better contributors at the position, B.J. Goodson, is still a free agent. The team has addressed the need, adding Anthony Walker from the Indianapolis Colts and re-signing Malcolm Smith. Sione Takitaki rounds out the group, and the fact is they could still use another, especially a sure tackler.
Niemann is a great fit in the seventh round for just that. Last season, he led the Iowa Hawkeyes in tackles with 77 in eight games. At the least, he could be an asset on special teams. Last year, Tavierre Thomas turned his special teams play into a Pro Bowl selection and a new contract with the Houston Texans. Niemann can possibly even crack the rotation at linebacker, depending on how Wilson, Phillips, and Takitaki progress. In fact, The Athletic lists him as their second top sleeper candidate in the draft, for what it's worth.
---
Check us out on our socials:
Twitter: @PTSTNews and @TalkPrimeTime
Facebook Page: Prime Time Sports Talk
Join our Facebook Group: Prime Time Sports Talk
Instagram: @ptsportstalk
Follow Jonas Clark on Twitter @jarkclonas
Main Image Credit:
Embed from Getty Images