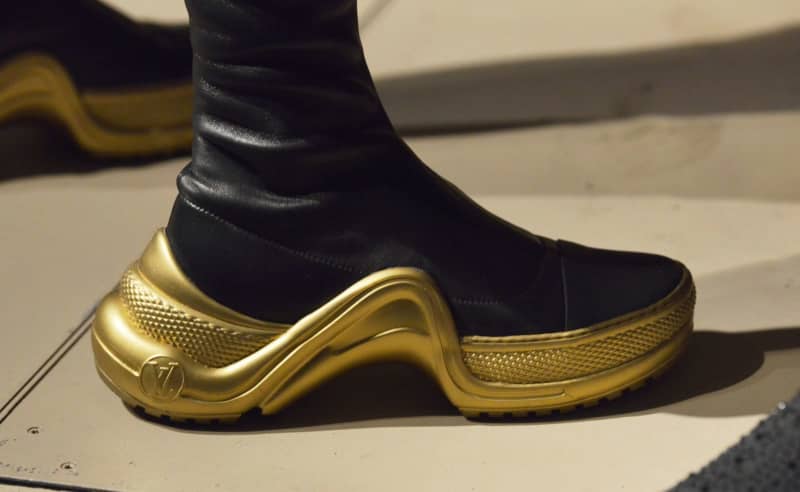 Trading in designer sneakers and other luxury fashion is booming during the pandemic.
That's good news for companies such as StockX, a platform where people trade sneakers, electronics, street wear, collectibles, watches and handbags, as well as video game consoles.
StockX is now worth 3.8 billion dollars, the company says - a hefty 35 per cent increase from its last funding round in December 2020.
"Fundamental shifts in both consumer buying and investing behavior provide an immense growth opportunity for StockX," says StockX CEO Scott Cutler.
The site sells the latest must-have handbags, watches and other valuable collectibles, alongside street wear brands like Supreme or BAPE, as well as Jordans, Yeezys and other rare footwear.
Like art, oldtimers or whiskey, the market has developed into its own investment category.
Basically, StockX has taken the principle of the sneaker as an investment object to the extreme - and rather than the Dow Jones or DAX indices, traders track the performance of their shoe portfolios on the website, just like an investment platform.
It started out as a tiny niche for die-hard collectors but has since emerged from being an underground market to become a major commercial event.
And the coronavirus outbreak is providing it with an additional turbo boost.
The pandemic is accelerating the digital transformation of the sneaker and street wear market, according to a study by investment bank Cowen & Co.
The analysts estimate that the volume of the second-hand market in North America has already passed the 2-billion-dollar mark and is growing at annual rates of 20 per cent.
Sneakers, they said, are a "booming alternative asset class" that allow investors to expand on their traditional portfolios.
Last year, StockX closed more than 7.5 million transactions and reached 400 million dollars in revenue.
The company, based in Detroit, says it has been in the black since mid-2020 and is targeting an initial public offering, the Wall Street Journal reported. StockX did not deny this, when approached for comment.
"Our focus right now is on global expansion and category diversification, while continuing to grow our core business," says Cutler, an experienced e-commerce executive poached by StockX from online retailer Ebay in 2019.
"There are massive opportunities ahead, and our mission right now is to execute," he adds.
Josh Lubner, who collects sneakers, realised early on that this niche could become a goldmine.
He cofounded StockX in 2016 together with entrepreneurs Greg Schwartz and Dan Gilbert, owner of the Cleveland Cavaliers basketball team.
The sneaker exchange has been growing rapidly ever since, and has shareholders including an investment company owned by rapper and business mogul Shawn Carter, known as Jay-Z.
The industry is booming beyond StockX.
Fashion conglomerate VF Corporation bought street wear brand Supreme for 2.1 billion dollars in November. The label grew out of a small store in Manhattan's trendy SoHo district, once a hub in the skater scene.
Now, Supreme is an international fashion chain with branches in Paris, Tokyo and other cities, and has entered several exclusive collaborations with larger luxury brands.
Sneakers have also been shaping up the auction scene. A pair of trainers made of porcelain and leather - a unique item born of a collaboration between Adidas and Meissen - sold for 126,000 dollars at an auction in New York in December.
And a pair of Nike Air sneakers by basketball legend Michael Jordan fetched 560,000 dollars at Sotheby's last summer.
That hype, in turn, helps companies like Nike, Adidas and others who seek to strengthen their brands by collaborating with sports stars and music celebrities.