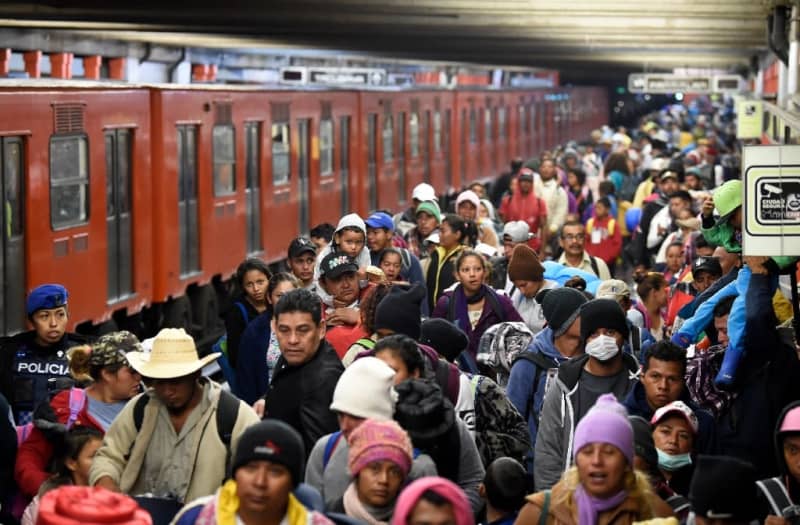 Mexico City (AFP) - Around 5,000 Central Americans left Mexico City at dawn Saturday, brushing exhaustion and illness aside to get back on the road towards the United States as part of a migrant caravan that has drawn fury from President Donald Trump.
Between coughs and sneezes, the migrants packed up their makeshift camp in a sports park, where they had rested for six nights, and headed to the city's metro -- which opened an hour early to transport them toward neighboring Mexico State. 
"We got cold sleeping out in the open, so that's why we're sick now. The kids have got lice, there's not always enough water to bathe them," Adamari Correa, a Guatemalan traveling with her sister and her sister's children, told AFP.
From there, the plan was to set off once again on foot toward Queretaro in central Mexico, still hundreds of kilometers (miles) from the US border.
"I don't want to walk, Mommy!" cried one little girl wrapped in a blanket, as her mother -- a sleeping mat on her back and two large bundles in each hand --  stood in an endless line waiting to board the five designated train, each carrying around 1,000 people, metro authorities estimated.
Some 1,000 police officers keep watch over the operation.
The caravan left San Pedro Sula, Honduras, on October 13 and has covered more than 1,500 kilometers (930 miles) so far. 
At least two other caravans have since been established, defying threats from Trump -- who has decried what he describes as an "invasion" and ordered thousands of soldiers to the US-Mexico border.
On Friday, his administration unveiled a controversial new crackdown, announcing it would no longer allow people who enter the US illegally to claim asylum. Instead, those seeking political or other kinds of asylum will be heard exclusively at the border crossings.
Also on Friday, another group of 1,300 Central American migrants embarked on the same path from Mexico City -- quickly amassing on the sides of the wide high-speed road that snakes around the capital, leading to the exit toward Queretaro.
"We're sick from the temperature changes," said Wilson Alexander Mejia, a 27-year-old laborer traveling alone.
"But we're determined to reach the border and beyond."