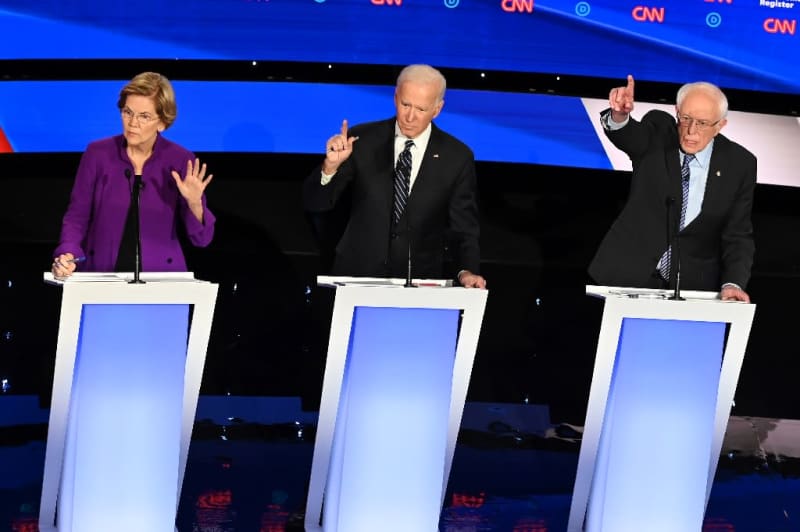 Washington (AFP) - With Tuesday's debate behind them, Democrats have launched the 19-day sprint to the first votes of the White House race in Iowa. But four of them will be forced to put their campaigns on ice to serve as Senate jurors in Donald Trump's impeachment trial. 
It is a first-ever nightmare scenario come to life for a quartet of candidates battling for the right to challenge Trump in November's election.
Three of the four senators -- progressives Bernie Sanders and Elizabeth Warren, and moderate Amy Klobuchar -- were able to make their case in the last nationally televised debate before the Iowa caucuses on February 3, the first vote in the nominating process.
A fourth senator in the running, Michael Bennet, failed to qualify for the debate.
Now their campaign wings are clipped by the impeachment proceedings in Congress, while other candidates remain free to barnstorm the Hawkeye state.
The chief beneficiary appears to be former vice president Joe Biden, the national frontrunner who had been struggling to impress in Iowa but whose fortunes improved there in recent weeks.
All four senator candidates have said they will fulfill their constitutional duty and sit in judgment of Trump in the Senate.
"Some things are more important than politics," Warren said during the debate.
"We have an impeachment trial. I will be there because it is my responsibility."
Now with his former Senate colleagues anchored in the Trump trial for two weeks or more, Biden can press the flesh in Iowa with several high-profile candidates out of the way.
So will his centrist rival Pete Buttigieg, the former mayor of South Bend, Indiana.
Senate Majority Leader Mitch McConnell has made clear that senators are required to remain seated and silent during the trial, effectively negating opportunities for a candidate to seize the spotlight during the proceedings.
Pale substitute
Nothing prevents a senator from holding Washington press conferences or livestreaming into Iowa campaign events.
But Iowans embrace their opportunity to kick the tires on candidates, and a video version of Sanders may be a pale substitute for the real thing.
Top House Republican Kevin McCarthy offered a sardonic take at a Monday press conference.
"With Iowa quickly upon us, in early February, those four senators who are running for president will now no longer have a voice," he said.
McCarthy even accused House Speaker Nancy Pelosi, who waited until Wednesday to transmit the articles of impeachment to the Senate, of "hurting Bernie and helping Biden" through her timing.
McCarthy went as far as to urge Biden to "pledge not to campaign while Bernie Sanders can not."
Biden has ignored such suggestions, instead pointing out how Trump and his Republican allies have dragged him into the Ukraine scandal, repeatedly branding him corrupt.
"I can't hold a grudge," Biden said in the debate, swatting Trump's accusations aside. "I have to be able to not only fight, but also heal."
It is a message he can relay to Iowa voters face to face ahead of the all-important caucuses early next month.
Other campaigns, absent an actual candidate, have launched massive ground games in Iowa.
Sanders, who raised $34.5 million in the final quarter of 2019, more than any Democrat, has some 250 paid staffers working the state, The Washington Post said. Warren has more than 100.
Klobuchar has acknowledged the challenges of campaigning during Trump's trial but said she is more than ready. 
"My presidential campaign will keep going strong," she told CNN Wednesday.
"I'll get back whenever I can leading into these caucuses," she said, adding that her husband and daughter would capably serve as on-the-ground surrogates.