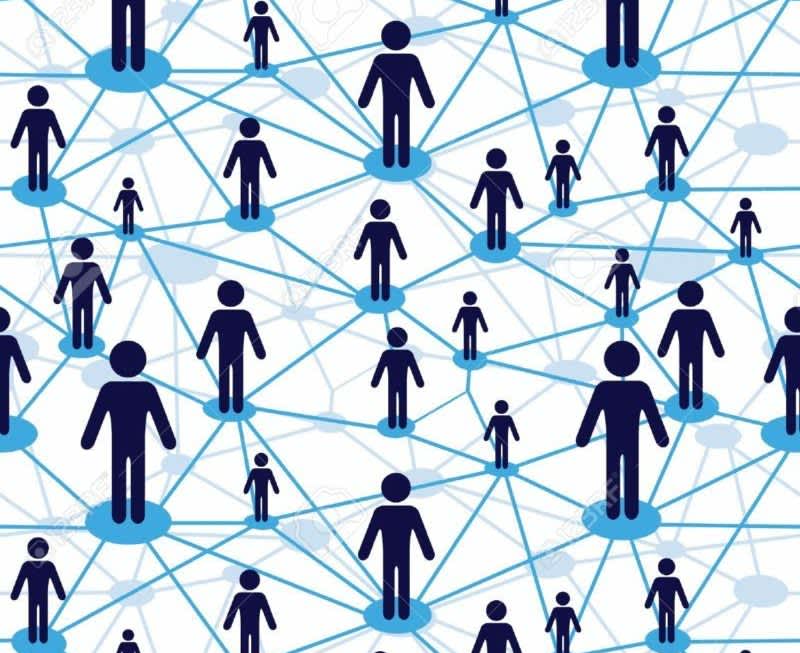 Lack of data and transparency from various states and anecdotal accounts of COVID-19 patients shows India is falling far behind in contact tracing, the most important weapon against the virus.
By Anuja Venkatachalam
India's climb to second place in the global ranking of countries with the highest number of coronavirus cases, despite the government's timely action in enforcing strict lockdown, has raised several eyebrows on the efficacy of measures taken, and the measures that could have been taken to prevent the spread of COVID-19.
In the wake of an infectious disease outbreak, to effectively quarantine and isolate the infected, governments and health institutions should work towards controlling the community transmission through public awareness, social distancing and contact tracing.
In India, while much of the focus has been on public awareness and social distancing, as a consequence, contact tracing for COVID-19 has been largely ignored. This is evident from limited data on poor contact tracing since the pandemic outbreak, first-hand accounts of COVID-19 patients, and lack of transparency from various states and central institutions around tracing performance.
What is contact tracing, and why does it matter?
The basic agenda of contact tracing is to identify, assess, and manage people who have been exposed to an infectious disease so as to help break the chain of transmission. In the case of the coronavirus, it is crucial to locate people who could have come in contact with an infected person and inform them to self-quarantine for a period of 14 days so as to curb the spread of COVID-19.
According to the World Health Organisation, "When systematically applied, contact tracing has an ability to break the chain of transmission of infectious disease and is thus an essential public health tool for controlling infectious disease outbreaks."
In general, it is particularly crucial in the context of the SARS-CoV2 where 80% of infections are mild or asymptomatic, and even symptomatic patients are infected on an average for 14 days before they start experiencing any symptoms.
An index measuring government policies on contact tracing developed at the Blavatnik School of Government, Oxford University shows that most countries have contact tracing mandates for some or all COVID-19 cases, however, it is unclear to what extent they were implemented.
This brings us to a question of whether India is conducting enough contact tracing?
The Ministry of Health and Family Welfare recommends that each state should carry out contact tracing for all confirmed cases, and the National Centre for Disease Control has issued a Standard Operating Procedure to aid frontline health workers conducting contact tracing.
The guideline states, "An attempt should be made to identify all household members, social contacts, contacts at workplace and contacts in health care settings, who have had contact with a confirmed case anytime between 2 days prior to the onset of symptoms and the date of isolation. Each contact or place visited should be identified and recorded by the epidemiologist/medical officer on the contact list."
ICMR's latest strategy for testing released on 4 September makes direct and high-risk contacts, symptomatic or asymptomatic, within or outside hotspots and containment zones eligible for testing.
Yet, except Kerala, information on testing data, made public by ICMR and state health departments currently do not disclose any information on contact tracing.
Testing data released by ICMR and state governments during the initial stages of the pandemic did, in fact, include information on contact tracing. An earlier study conducted by ICMR on COVID-19 testing conducted between 22 January and 30 April, found that 35.9% of patients found positive from testing were contact cases, which comprised both symptomatic or asymptomatic cases. More importantly, the reason for testing was unspecified for most patients, indicating inadequacies in tracing the history of people getting tested, and COVID-19 positive patients.
The poor state of contact tracing is also evident in the media bulletins released by states in the early stages of the pandemic. An analysis of the Karnataka's contact tracing data compiled by the Indian Statistical Institute, Bangalore from media bulletins published by the Government of Karnataka between March and July 2020 shows that the 'parent contact' was unknown for 93% of patients who tested positive during the period.
Kerala's Health Department continues to report daily numbers on the number of contact cases vs. import cases, and de-identified patient-level data that most states reported until June-July.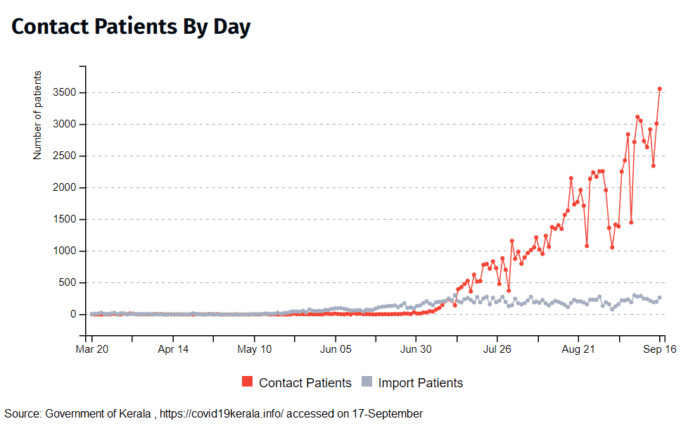 On 23 July 2020, 68% of new cases reported across the state were traced to foreign travel. Between July and September, the number of cases increased 8.5x, primarily driven by contact cases. A 25x increase in contact cases in a span of 2 months is indicative of the community transmission of COVID-19, as contact cases have far exceeded import cases.
Are COVID-19-positive cases being contacted for contact tracing?
We interviewed COVID-19 patients who recently tested positive to find out if they were contacted by the government officials for contact tracing. And the results were worrying.
For Srinagar-based Aijaz Ahmad, who upon observing influenza-like symptoms instantly decided to self-isolate himself, health authorities showed no keenness in finding out any details regarding contact tracing.
While recalling his experience, Ahmad, a 30-year-old who hails from Sodium village in Pattan, 35 km north of Srinagar said, "On July 10, I went to a nearby hospital and got myself tested for COVID-19. Two days later, my test report came positive and I was taken to a quarantine centre," he said.
Ahmad mentioned that the health authorities at the quarantine centre asked for the names of his family members, however, they did not ask if they observed any symptoms or got tested. "The health department official didn't ask me anything about my contacts. I think they were not even bothered," he said.
As a precautionary measure, it was Ahmad who asked his family to be vigilant and watch out for COVID-19 symptoms. "I told my family to be cautious and get tested if need be. But it was their decision to keep themselves in isolation," he added.
Ahmad remained at the quarantine centre for close to ten days and was allowed to go home after his second test confirmed him to be negative.
Sameer Handa, a Jaipur-based businessman echoed the same sentiments as after he tested positive for COVID-19, he did receive a couple of calls to check-in on his medical condition, however, none of them discussed contact tracing.
While sharing a similar experience, Dr Meenakshi, a Delhi-based health professional said, "I took initiative and informed my family and colleagues at the hospital to take quarantine measures and get themselves tested."
Dr Meenakshi, who had to be admitted to a hospital for COVID-19 treatment due to underlying health conditions, is of the view that she may have got infected by one of her neighbours as her locality was declared a containment zone. Totally unaware about what happened during her neighbour's case, she stated, at least in her case no one contacted her directly for contact tracing, even when she tested positive. Although she was allocated a health professional who regularly checked-in on her health status.
Twenty-seven years old Abdullah who lives in Delhi tested positive for COVID-19 on 15 September. He reported being asked the following six questions from health officials in Delhi – if he had any symptoms if he could home quarantine, his age and profession, the names of his family members, his home address, and an alternative contact number.
A day after he tested positive, he received a visit from health professionals, who put up a "self-isolation" poster outside his home, but no efforts were made to contact trace.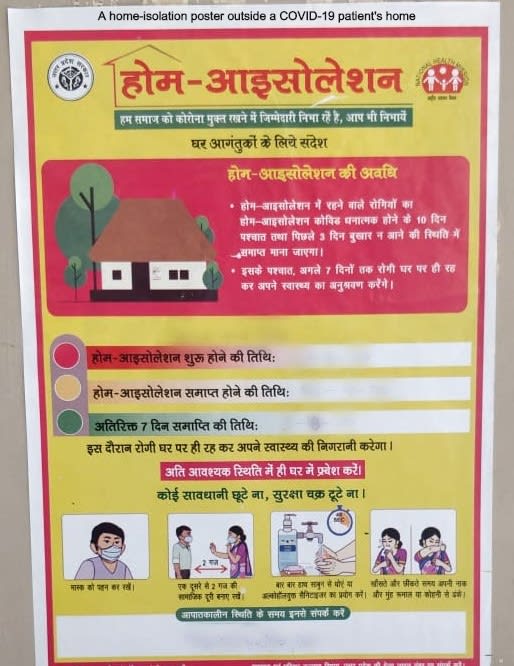 Shifting responsibility
The lack of disclosure of contact tracing numbers and anecdotes from COVID-19-positive cases in different states, except Kerala; suggest that the government might not be proactively conducting contact-tracing in accordance with the guidelines set forth by the National Centre for Disease Control. Instead, the responsibility is being transferred to citizens who are now expected to self-assess, self-report and self-quarantine based on word-of-mouth from neighbours and colleagues who have tested positive.
Perhaps this is what is leading to widespread community transmission in India.